A Career Lesson: Incentives Are Bad for Nonprofits
Note: The following is an excerpt from the new book "Dollar Dash: The Behavioral Economics of Peer-to-Peer Fundraising." Details for downloading Chapter 1 can be seen at the end of the blog post.
In his 2008 book "Outliers," Malcolm Gladwell writes, "10,000 hours is the magic number of greatness." Gladwell contended that it's "an extraordinarily consistent answer in an incredible number of fields… you need to have practiced, to have apprenticed, for 10,000 hours before you get good."
The message in "Outliers" is that people aren't born geniuses; they get there through effort. Gladwell's examples include:
Bill Gates, who through an unusual convergence of good fortune, was able to code on a state-of-the-art supercomputer in high school.
The Beatles, who refined their sound playing 8-hour gigs in smoky German clubs for years before they invaded America.
Those opportunities to practice early and often—along with the requisite smarts and talent—allowed them to revolutionize software and modern rock 'n' roll.
I (Katrina) have had several 10,000-hour thresholds in my career. I started my company, Turnkey, in 1989, so my first 10,000 hours happened around 2007 or so. By that time, while certainly not having achieved genius-level competence, I had spent 10,000 hours on promotional products procurement and fulfillment for nonprofits. I had worked with the American Cancer Society Relay For Life during its explosive growth and other smaller clients.
By 2007, I realized that most marketing directors didn't consider promotional products in the same way they considered, for example, print media. For promotional products, consideration was primarily given to price; for other marketing products and services, effectiveness was part of the equation. It frustrated me.
I began to realize that I might be doing more harm than good to the nonprofit industry I loved. The expenditures I saw on promotional products—without careful use, planning and ROI evaluation—were massive. We were making good money, but at what cost to our clients?
Then, if you asked buyers why they were buying, they would say things like, "To build awareness." I would respond, "How does that work? And what's it supposed to produce, this awareness? How do you measure it?" They could answer only in vague generalities. If you're spending hundreds of thousands of fundraised dollars, the answer shouldn't be a vague generality.
I began to work closely with a client who felt the same way. We happened to be working on what, at the time, we called an incentive program, using promotional products as incentives for higher fundraising by peer-to-peer volunteers. She and I both lamented that we really were running a big thank-you gift program because the participants often didn't even know about any incentives.
We began to experiment with letting people know about the incentive program with what then was a bold, new idea: Income-triggered email campaigns. This type of campaign sent emails to volunteer fundraisers triggered by the amount of fundraising they had achieved. The email campaign recognized a very specific behavior—having fundraised to a specific revenue level. Thus began my next 10,000-hour journey.
From that experiment, our company began to deliver income-triggered messaging even before the functionality was built into P2P fundraising platforms, like the ones supported by Blackbaud.
That idea that messaging people about an incentive would affect their fundraising behaviors turned into something else altogether.
Once we began to deliver messaging, we also began to deliver redemption opportunities instead of actual gifts. Now volunteer fundraisers had to acknowledge that they wanted gifts, instead of gifts just showing up. We had created business intelligence that wasn't there before. And it was good. That new business intelligence led us down another, unexpected, 17,000-hour path to this: "Incentives are bad for nonprofits."
Incentives are bad for everyone—for fundraisers, for employees, for donors, for your outsourced janitorial staff, for your children's reading efforts, for your board. You name it.
If your constituent is working for the cause for the sake of earning the incentive goodie, you have a problem. We talked at length about that problem in Chapter 3, where we defined "insufficient justification" as important to building the desired intrinsic label in a person.
Whether promotional products are bad or good for nonprofits has everything to do with positioning. As ever, context is everything.
---
Katrina VanHuss and Otis Fulton have written a new book, Dollar Dash, on the psychology of peer-to-peer fundraising. Click here to download the first chapter, courtesy of NonProfit PRO!
E
Otis Fulton and Katrina VanHuss
Author's page
Katrina VanHuss is the CEO of Turnkey, a U.S.-based strategy and execution firm for nonprofit fundraising campaigns. Katrina has been instilling passion in volunteer fundraisers since 1989 when she founded the company. Turnkey's clients include most of the top 30 U.S. peer-to-peer campaigns — Susan G. Komen, the Cystic Fibrosis Foundation, the ALS Association, the Leukemia & Lymphoma Society, as well as some international organizations, like UNICEF.
Otis Fulton is a psychologist who joined Turnkey in 2013 as its consumer behavior expert. He works with clients to apply psychological principles to fundraising. He is a much-sought-after copywriter for nonprofit messaging. He has written campaigns for St. Jude's Children's Research Hospital, the March of Dimes, the USO and dozens of other organizations.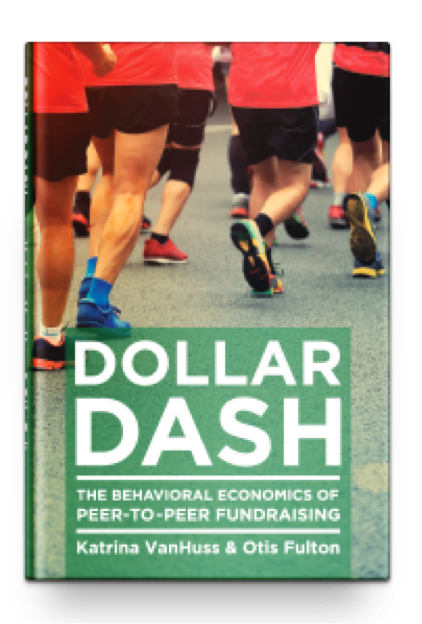 Now as a married couple, Katrina and Otis almost never stop talking about fundraising, volunteerism, and human decision-making — much to the chagrin of most dinner companions. They live in Richmond, Virginia.
Katrina and Otis present regularly at clients' national conferences, as well as at bbcon, NonProfit POWER, P2P Forum and others. They write a monthly column for NonProfit PRO and are the co-authors of the 2017 book, "Dollar Dash: The Behavioral Economics of Peer-to-Peer Fundraising." Click here to download the first chapter.