How to Hit Your P2P Revenue Target
If your job is in peer-to peer fundraising, you are in the movement business. Movements require numbers—big ones. Mainstream fundraisers often look at P2P fundraising with suspicion veiled in skepticism. It looks a little bit like magic, too much like an art and certainly not a science. It looks like messy work, too, with big numbers of humans all attached to small donations. Wouldn't it be easier to find and cultivate one major donor, rather than try to manage a system with a lot of unknowns?
Even inside P2P fundraising, the industry has largely worked on gut and not defined the variables that drive P2P fundraising. Here, we will define a big variable and show you one example of putting social science to work in your revenue projection.
P2P fundraising leverages the social networks of supporters and fundraisers. The expansiveness of those relationships has metrics, right? Knowing how far an individual's social network extends is useful. But how could we possibly know that? And how can we use that knowledge?
Thanks to the work of British anthropologist Robin Dunbar, we do know the extent of a person's social network. In the 1990s, Dunbar found a correlation between primate brain size and average social group size. Extrapolating from the results of primates, he proposed that humans should be able to maintain about 150 stable relationships. He was right.
Think of 150 as your casual friends—the number of people you might invite to a large party. It turns out that 150 is an average, with a range of between 100, for the most solitary of us, and 200 for the most social. And as you would expect, the specific people in someone's social group changes over time.
In the past 20 years, 150 has come to be known as "Dunbar's number." Although 150 is the number most often associated with Dunbar, there is actually a series of Dunbar's numbers. On the upper end, 1,500 is the average number of people to whom we can match a name with a face. On the lower end, the number five represents your close support group, which consists of your best friends and family members.
Dunbar's number has had a big impact on social media companies, such as Twitter and LinkedIn, guiding the way software engineers design these tools. Shouldn't the use of social media make our social networks larger? You would think so, but research has found that people engaged daily in social media still maintain only between 100 and 200 stable social connections. And a Michigan State University survey of Facebook use among undergraduates found that although students had a median of 300 Facebook friends, they counted only 75 as "actual" friends.
In P2P fundraising, you can use Dunbar's number to do many things:
Decide if you'll use a staff person or volunteer committee to coordinate the P2P fundraising recruitment.
Predict how many teams a single staffer or committee member might be able to recruit using a percentage of Dunbar's number.
Decide how big a committee you might need to have enough connections into the community to recruit enough teams to raise the amount of money you want.
Compose fundraiser-training guides with anchors to "normal behavior" in terms of how many people to ask for a donation, as in, "Ask 150 of the people closest to you for a donation." (Good plan!)
The following is a real-life example of Dunbar's number in action. A client of mine, a hospital, wanted to create their first P2P fundraising event. When we began to strategize, the team quickly came to these basics for the proposed event:
We would inspire a social relationship with the registrants. Nothing would be "for sale."
We would recognize relentlessly, sometimes creating jobs, so that we could recognize people for doing them.
We would use elicited behaviors to install intrinsic labels.
We would use the mission at every turn.
But the big question was: How do we acquire participants? Some discussion centered around putting on a "best of breed" activity that in-and-of itself would draw participants, like a great cycling event. But we knew that kind of event would not produce great fundraisers. We would not be able to attract people to the event based purely on the great experience, although we planned to make their time deeply meaningful. We had to find another way to recruit people.
The team and I talked about building out a volunteer leadership committee that would attract the majority of volunteer fundraisers. Here's how it worked:
We needed to raise $500,000, of which we thought about $100,000 would come from sponsorships, leaving us $400,000 to rise. If the average team raised $1,000 we would need 400 teams of about 10 people each. Where would we get 400 teams? We planned and recruited a volunteer-leadership committee. These are the influencers who would dig into the community to recruit our team captains.
We knew that Dunbar's number said that each volunteer leadership committee member would have about 150 connections in the community that might say "yes" to being a team captain.
We assumed a low conversion rate, meaning that of the 150 friends I asked, only two percent would say yes, giving us three team captains per leadership volunteer. Four hundred teams divided by three teams per leadership volunteer meant we needed at least 133 leadership volunteers. The team recruited that number.
Being conservative in our estimates paid off. Three weeks before the event, the organizers emailed me to ask how many registrants would likely not show up… because now it was oversold. They needed to figure out if they could take more registrations for people who planned to attend.
Dunbar's number provided the framework for success. And the proof is that the event itself was not what drove fundraising, because more than $1 million that was raised in the event's inaugural year, with $900,000 of the total coming from P2P fundraisers recruited through social relationships.
---
Katrina VanHuss and Otis Fulton have written a new book, Dollar Dash, on the psychology of peer-to-peer fundraising. Click here to download the first chapter, courtesy of NonProfit PRO!
E
Otis Fulton and Katrina VanHuss
Author's page
Katrina VanHuss is the CEO of Turnkey, a U.S.-based strategy and execution firm for nonprofit fundraising campaigns. Katrina has been instilling passion in volunteer fundraisers since 1989 when she founded the company. Turnkey's clients include most of the top 30 U.S. peer-to-peer campaigns — Susan G. Komen, the Cystic Fibrosis Foundation, the ALS Association, the Leukemia & Lymphoma Society, as well as some international organizations, like UNICEF.
Otis Fulton is a psychologist who joined Turnkey in 2013 as its consumer behavior expert. He works with clients to apply psychological principles to fundraising. He is a much-sought-after copywriter for nonprofit messaging. He has written campaigns for St. Jude's Children's Research Hospital, the March of Dimes, the USO and dozens of other organizations.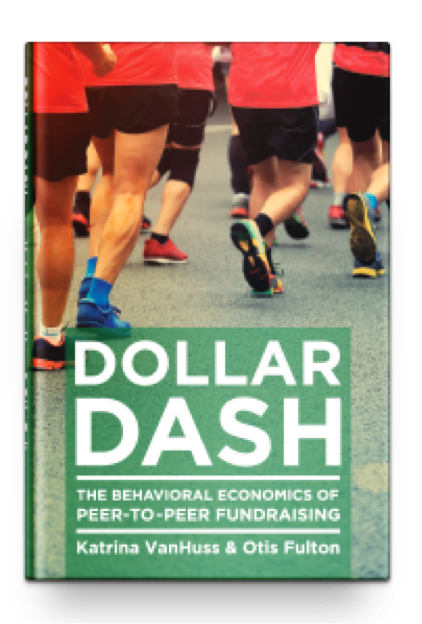 Now as a married couple, Katrina and Otis almost never stop talking about fundraising, volunteerism, and human decision-making — much to the chagrin of most dinner companions. They live in Richmond, Virginia.
Katrina and Otis present regularly at clients' national conferences, as well as at bbcon, NonProfit POWER, P2P Forum and others. They write a monthly column for NonProfit PRO and are the co-authors of the 2017 book, "Dollar Dash: The Behavioral Economics of Peer-to-Peer Fundraising." Click here to download the first chapter.