Here's a Marketing Platform You Need to Know About Before You Lose Your Job (Eventually)
Every morning at 7:00 a.m., I (Otis) get a very interesting email. It tells me everyone who has visited the Turnkey website in the past 24 hours. The names are ordered from top to bottom depending on how many times they have interacted with our website or opened our emails in the past. Clicking on any of the names gives me a history of each person's interactions, what emails they were sent and which they opened, what forms they filled out, what pages on the website they visited and even how long they spent on each page.
Most of my professional career has been spent working for large, multinational education companies, like Pearson (as it's known in some education circles, the "Deathstar of Education"). My role was to launch new products into the education market. The type of email that I describe above was sent to me for these products for years—customer acquisition data. This information is generated by what is known as "automated marketing" tools. If you work in nonprofit development and aren't familiar with this term, you soon will be.
When I began working with nonprofits four years ago, I was surprised to find that these kinds of tools are rarely used in the nonprofit world. Last year, Turnkey began implementing an automated marketing platform we call Aptidu. We are now in the process of rolling out Aptidu to all of our current clients. And strictly through word of mouth, we have also gotten a lot of interest from nonclients—that's how powerful this tool is.
Aptidu was created to help with these issues:
• Lack of transparency between departments, which touch one constituent.
• Lack of transparency for management about the actions of field staff.
• Difficulty in helping staff make good decisions about how to use their time.
• Difficulty installing engagement and nurture plans at the staff level.
Aptidu is a process and a tool. The process is:
• Define what our best fundraisers look like.
• Define what we want our staff to do.
• Define how we want to message our constituents and our staff.
We recently showed Aptidu to Mark Hierlihy, a Toronto-based consultant who conducts cause-related research and develops engagement strategies for both nonprofit and for-profit companies. After seeing the tool, here are his thoughts on the direction marketing is taking in the nonprofit space.
The big trend companies are mastering is personalized marketing. Many charities are way behind the eight ball on this and are stubbornly sticking to legacy tools like Blackbaud platforms, which are no longer adequate.
So what's behind all this?
I do a lot of trend watching and have been studying demographics for a few years. I can see Civics and older Boomers have been fairly tolerant of general communication (spray and pray) and for a long time, have responded in fairly consistent numbers. Charity fundraisers and marketers have relied on those consistent responders, even when the numbers are low. (This is especially true in direct marketing.) But they are in denial about how quickly things are changing. Their thinking is outdated, but they also don't have the tools to do their job in the new world. I believe charities, like Canadian Cancer Society, are finding out the hard way that going forward, they won't be able to count on their traditional ways, so tools like the one you have will be increasingly important.
The harsh realities are:
• There is a tsunami of information: Everyone recognizes this, but many are not responding nearly quickly enough by changing their message and the tools they use to segment and share the message. Consumers, especially younger ones, have never been less tolerant of the massive amount of information being washed over them and are more likely to respond to communication that is more personalized. And newsflash—it's so easy to unsubscribe or put stuff in the junk folder.
• Trust is in decline: I think this is another area where charities are not paying enough attention to. People trust their friends, which is why peer-to-peer is still relevant. (It's also why fake news spreads like wildfire.) It's really about trusting "people who think like me."
• Charities are confused about relationships: The most important principle in fundraising is "people asking people." In P2P, the most important relationship is between a participant/donor and the person who has been affected by the cause—more than between the charity and donor. Charities somehow believe the relationship they have with the participant/donor is the most important. "Talking their ear off" doesn't help the relationship.
Back to personalized marketing:
1) Charities need to communicate less, in a far more personal way. Increasing the volume and frequency of communication is the wrong thing to do because it turns people off.
2) They need tools like yours to help them.
3) With the tsunami of information washing over people, it is communication that people feel is personalized to them and their preferences that will be opened and acted on.
4) We need more people like Brady Hambleton, who understand this and who has convinced his charity to take the long view—create a strategy from where they are today to where they want to be in five years.
As you can see from Mark's comments, this is a big idea that can be daunting. But if we don't go there, we are sure that in two years, Turnkey's clients will be looking at us asking, "Why didn't you bring us into the 20th century with this?"
---
Katrina VanHuss and Otis Fulton have written a new book, Dollar Dash, on the psychology of peer-to-peer fundraising. Click here to download the first chapter, courtesy of NonProfit PRO!
E
Otis Fulton and Katrina VanHuss
Author's page
Katrina VanHuss is the CEO of Turnkey, a U.S.-based strategy and execution firm for nonprofit fundraising campaigns. Katrina has been instilling passion in volunteer fundraisers since 1989 when she founded the company. Turnkey's clients include most of the top 30 U.S. peer-to-peer campaigns — Susan G. Komen, the Cystic Fibrosis Foundation, the ALS Association, the Leukemia & Lymphoma Society, as well as some international organizations, like UNICEF.
Otis Fulton is a psychologist who joined Turnkey in 2013 as its consumer behavior expert. He works with clients to apply psychological principles to fundraising. He is a much-sought-after copywriter for nonprofit messaging. He has written campaigns for St. Jude's Children's Research Hospital, the March of Dimes, the USO and dozens of other organizations.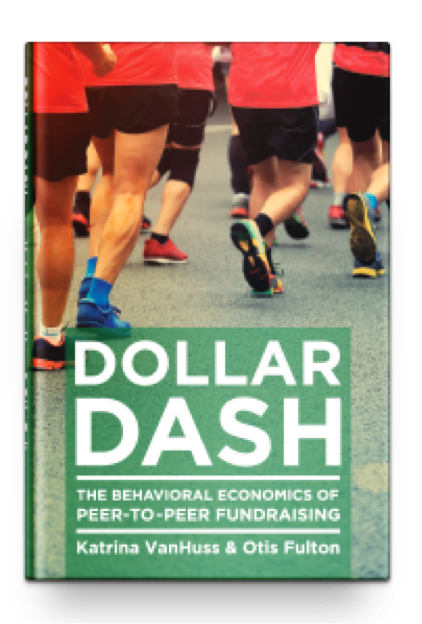 Now as a married couple, Katrina and Otis almost never stop talking about fundraising, volunteerism, and human decision-making — much to the chagrin of most dinner companions. They live in Richmond, Virginia.
Katrina and Otis present regularly at clients' national conferences, as well as at bbcon, NonProfit POWER, P2P Forum and others. They write a monthly column for NonProfit PRO and are the co-authors of the 2017 book, "Dollar Dash: The Behavioral Economics of Peer-to-Peer Fundraising." Click here to download the first chapter.