Darth Vader Reads My Blog
A couple weeks ago I wrote about my revelation that Dan Pallotta is smarter than he looks. And he looks pretty smart—not just because he dresses well, which he does.
Dan regularly rants about the focus on overhead and its death-spiral inducing effects on nonprofits. I was skeptical, until one of my own beloved nonprofit buds came out with this statement in conversation: "If we had $500 million we could cure X." My kid has X. I was a changed woman. Screw overhead; it's about absolute dollars. I absolutely want $500 million so my daughter's life is unencumbered by X.
I wrote about it, and joked (yes, I was joking), "To hell with GuideStar! Let's raise $500 million any way we gotta."
GuideStar was watching, like a spaceship with lots of antennae. It turned its big eye on me.
I got an email.
Then, I got a call.
I was worried. Then, I remembered, "I'm not a nonprofit."
We talked. Gabe Cohen, media and outreach manager for Guidestar, referred me to a letter co-authored by BBB Wise Giving Alliance, GuideStar and Charity Navigator. Basically, GuideStar is totally onboard with raising absolute dollars. And, they have a good grasp on the challenges—potential fraud, donor disgust with expenses, being able to figure out what actually is needed using real numbers and real goals. I was impressed.
The evangelical Gabe shared with me not only that he and I had a shared university background (go Hokies!) but that his organization has a big interest in changing reporting so that donors can have more meaningful information with which to make decisions than simply using the expense-to-income ratio. To that end, GuideStar gives nonprofits the opportunity to submit more information than the 990 requires, to allow donors to see more. The results of their collection efforts are far more meaningful than what the 990 contains. The 990 is an antiquated form designed to collect data for entirely different reasons than to create meaningful output that can assist nonprofits and humanity.
E
Otis Fulton and Katrina VanHuss
Author's page
Katrina VanHuss is the CEO of Turnkey, a U.S.-based strategy and execution firm for nonprofit fundraising campaigns. Katrina has been instilling passion in volunteer fundraisers since 1989 when she founded the company. Turnkey's clients include most of the top 30 U.S. peer-to-peer campaigns — Susan G. Komen, the Cystic Fibrosis Foundation, the ALS Association, the Leukemia & Lymphoma Society, as well as some international organizations, like UNICEF.
Otis Fulton is a psychologist who joined Turnkey in 2013 as its consumer behavior expert. He works with clients to apply psychological principles to fundraising. He is a much-sought-after copywriter for nonprofit messaging. He has written campaigns for St. Jude's Children's Research Hospital, the March of Dimes, the USO and dozens of other organizations.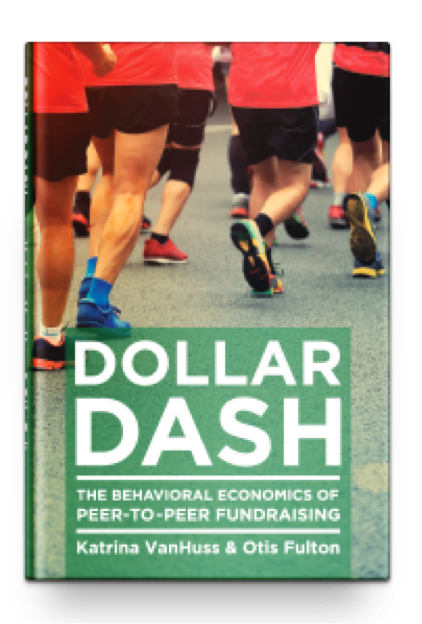 Now as a married couple, Katrina and Otis almost never stop talking about fundraising, volunteerism, and human decision-making — much to the chagrin of most dinner companions. They live in Richmond, Virginia.
Katrina and Otis present regularly at clients' national conferences, as well as at bbcon, NonProfit POWER, P2P Forum and others. They write a monthly column for NonProfit PRO and are the co-authors of the 2017 book, "Dollar Dash: The Behavioral Economics of Peer-to-Peer Fundraising." Click here to download the first chapter.