P2P Fundraising: The Perfect Psychological Storm
Putting a psychologist with two peer-to-peer (P2P) fundraisers is like putting two college seniors in a craft beer taste test. It's kind of fun.
It turns out P2P fundraising is the perfect psychological storm. The relationship of the volunteer fundraiser with the nonprofit is a huge opportunity for raising money, but also easy to screw up.
Social relationships happen when two entities want to be a relationship. There is no financial exchange.
Market relationships happen when each of the two entities has something the other wants and an exchange of currency happens. Market relationship equals payment. Unfortunately, nonprofits trip up and fall into market relationships without really internalizing what that means—and it means a lot.
How do you get in a market relationship? You change the "currency" in your relationship away from "heart" and into "money." As an example, if you charge a registration fee, you have just flipped your participant into a market relationship. If you use incentives that can be mentally monetized ("That costs around $20"), you have just paid your fundraiser. If you hit your donor's credit card when he or she doesn't fundraise enough to participate, you just created a market relationship.
According to the 2014 Blackbaud Peer-to-Peer Fundraising Study, the largest amount of gross and net revenue comes from social relationships, represented by walks with no registration fees. Considerable fundraising income with lower net revenue comes from market relationships. Simply put, you have to pay people if you are in a market relationship, resulting in a lower net profit.
Dig into this kind of fun and more during "Getting Deep: The Psychology of Peer to Peer Fundraising," Mon., Oct. 26, at 1:15 p.m., in Room 14 of the Austin Convention Center at BBCon 2015 in Texas. Presenting will be Amy Braiterman, voted "Most Fun at Conference" three years running; Otis Fulton, our Turnkey psychologist shanghaied into the study of P2P fundraising; and myself, a 27-year industry veteran determined enough to press the 6'10" Fulton into psychological service. I looked like a dachshund bringing down a black bear getting it done.
E
Otis Fulton and Katrina VanHuss
Author's page
Katrina VanHuss is the CEO of Turnkey, a U.S.-based strategy and execution firm for nonprofit fundraising campaigns. Katrina has been instilling passion in volunteer fundraisers since 1989 when she founded the company. Turnkey's clients include most of the top 30 U.S. peer-to-peer campaigns — Susan G. Komen, the Cystic Fibrosis Foundation, the ALS Association, the Leukemia & Lymphoma Society, as well as some international organizations, like UNICEF.
Otis Fulton is a psychologist who joined Turnkey in 2013 as its consumer behavior expert. He works with clients to apply psychological principles to fundraising. He is a much-sought-after copywriter for nonprofit messaging. He has written campaigns for St. Jude's Children's Research Hospital, the March of Dimes, the USO and dozens of other organizations.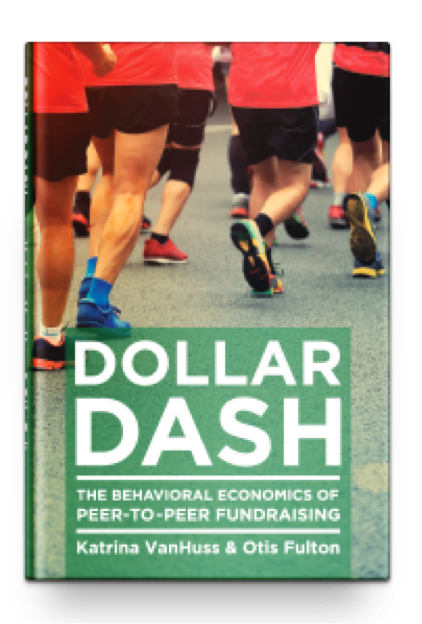 Now as a married couple, Katrina and Otis almost never stop talking about fundraising, volunteerism, and human decision-making — much to the chagrin of most dinner companions. They live in Richmond, Virginia.
Katrina and Otis present regularly at clients' national conferences, as well as at bbcon, NonProfit POWER, P2P Forum and others. They write a monthly column for NonProfit PRO and are the co-authors of the 2017 book, "Dollar Dash: The Behavioral Economics of Peer-to-Peer Fundraising." Click here to download the first chapter.