The Optimism Bias and 10,000 Boxes of Napkins
A little while back I talked about loss aversion. Loss aversion can cause you to make bad decisions in order to preserve the status quo, which you perceive as a more positive condition than the unknown.
But biases compete. Loss aversion can be crowded out by other biases, among them the dreaded bias for optimism. (Cue ominous chord.) According to psychologist Daniel Kahneman in his 2011 book "Thinking, Fast and Slow," "people tend to be overly optimistic about their relative standing on any activity in which they do moderately well."
Otis Fulton, Turnkey's in-house psychologist, said, "Our unconscious biases make decision-making a much-less-than-rational endeavor. Some make us overly conservative and resistant to change. But then when we do change–say hello to the optimism bias! Simply stated, when people estimate their chances of experiencing a good outcome–with a job, marriage, stock picks, etc.–they believe that their odds will be higher than average. Conversely, they estimate that their odds of experiencing negative outcomes will be lower than that of other people.
"The optimism bias is a universal human trait; it transcends race, gender and nationality," Otis continued. "Individually, it can both hurt and help. Sometimes people wind up broke (even dead) because they underestimate the probability that bad things will happen to them. But as a society, we should be grateful that people are overly optimistic. It helps them to start new businesses, invent new things–many of which benefit all of us in the long run."
The optimism bias can help you by crowding out loss aversion, helping you make necessary changes. But optimism bias can hurt you by leading you to make high-risk decisions. The optimism bias whispers in your subconscious ear, "You'll make budget even though you're down now. You'll be able to hire a better person next time. The next special event will make goal."
The optimism bias manifests at Turnkey as the remainder of a purchase I authorized more than five years ago. I bought 10,000 boxes of American Cancer Society Relay For Life napkins because "everybody needs napkins!" For me, it shows up in the company bathroom, in the company kitchen, in my house and in my car. Thank God they aren't selfie sticks.
I bought those napkins to support my client at a time when Turnkey still supported a few clients in pure product fulfillment. We left that market because we found that most promotional product purchases were made without a good plan for turning that investment into fundraising dollars. Thank heavens I no longer have to make decisions in conditions where my bias for optimism can flourish. Now I have research, science and 27 years of experience to fight back against my biases. In fact, now I don't buy napkins at all because other branded products and methods work better to produce fundraising activity.
What guided me that day was the optimism bias and the desire to please a client. While I don't have to buy hand towels, I would rather have not bought those napkins at all. They remind me each day to consider my own personal biases at work in my decision-making. Those napkins remind me to challenge my intuition.
E
Otis Fulton and Katrina VanHuss
Author's page
Katrina VanHuss is the CEO of Turnkey, a U.S.-based strategy and execution firm for nonprofit fundraising campaigns. Katrina has been instilling passion in volunteer fundraisers since 1989 when she founded the company. Turnkey's clients include most of the top 30 U.S. peer-to-peer campaigns — Susan G. Komen, the Cystic Fibrosis Foundation, the ALS Association, the Leukemia & Lymphoma Society, as well as some international organizations, like UNICEF.
Otis Fulton is a psychologist who joined Turnkey in 2013 as its consumer behavior expert. He works with clients to apply psychological principles to fundraising. He is a much-sought-after copywriter for nonprofit messaging. He has written campaigns for St. Jude's Children's Research Hospital, the March of Dimes, the USO and dozens of other organizations.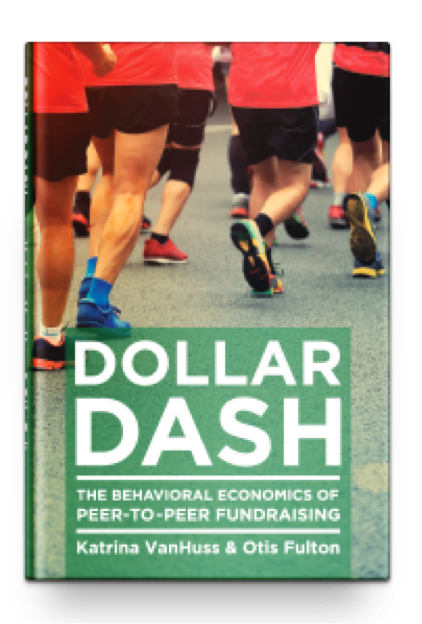 Now as a married couple, Katrina and Otis almost never stop talking about fundraising, volunteerism, and human decision-making — much to the chagrin of most dinner companions. They live in Richmond, Virginia.
Katrina and Otis present regularly at clients' national conferences, as well as at bbcon, NonProfit POWER, P2P Forum and others. They write a monthly column for NonProfit PRO and are the co-authors of the 2017 book, "Dollar Dash: The Behavioral Economics of Peer-to-Peer Fundraising." Click here to download the first chapter.