Ice Buckets, Viruses and Math
Why do people like me write about the ALS Ice Bucket Challenge (IBC)? Because we have to. If we don't have an opinion, we look ... unopinionated. That's like one politician saying to an opponent, "You know, that is a pretty good idea!" Deadly.
I will attempt to titillate whilst opining on said topic.
My brain buddy Otis Fulton, Turnkey's shanghaied neuropsychologist, weighed in on why the IBC went viral. "The ice bucket challenge was the most successful viral campaign of its kind. When something goes viral, it gains the power of what psychologists call 'social validation.' When something circulates virally, other people want to join in to become part of the group.
"What determines something that goes viral as opposed to things that do not? It turns out that the most important element of something going viral is that it elicits a strong emotional reaction. And it turns out that dumping ice water onto yourself is very emotionally stimulating — both physically and psychologically. Couple this with a call to action — challenging friends and family to imitate you - and a viral sensation is born."
So what Otis is saying, in my words, is that what other people think is really important to us. If we see a group of people doing something, however weird that something might be, we want to do it too.
That implies both an opportunity and a responsibility. The opportunity is to raise a bunch of money by creating an opportunity for social validation connected to fundraising; the responsibility is to make sure it is safe and brand-compliant.
The other part of this interesting conversation is that we can mimic an emotional response with a physical one (iced water on the body is incredibly physical).
There are lots of ways to talk about the IBC. One way is this: (Social validation + ((emotional or physical response)+call to action) = Going Viral.
E
Otis Fulton and Katrina VanHuss
Author's page
Katrina VanHuss is the CEO of Turnkey, a U.S.-based strategy and execution firm for nonprofit fundraising campaigns. Katrina has been instilling passion in volunteer fundraisers since 1989 when she founded the company. Turnkey's clients include most of the top 30 U.S. peer-to-peer campaigns — Susan G. Komen, the Cystic Fibrosis Foundation, the ALS Association, the Leukemia & Lymphoma Society, as well as some international organizations, like UNICEF.
Otis Fulton is a psychologist who joined Turnkey in 2013 as its consumer behavior expert. He works with clients to apply psychological principles to fundraising. He is a much-sought-after copywriter for nonprofit messaging. He has written campaigns for St. Jude's Children's Research Hospital, the March of Dimes, the USO and dozens of other organizations.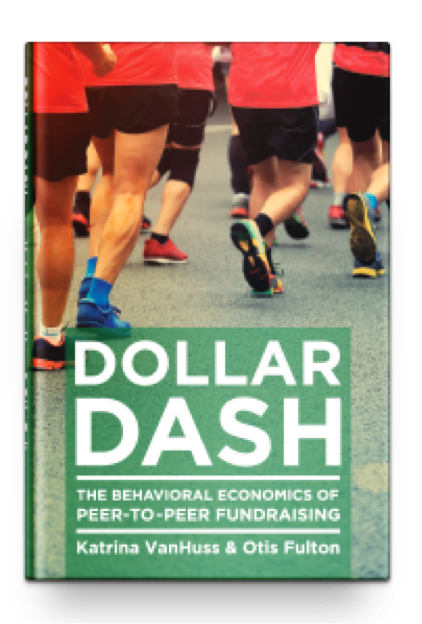 Now as a married couple, Katrina and Otis almost never stop talking about fundraising, volunteerism, and human decision-making — much to the chagrin of most dinner companions. They live in Richmond, Virginia.
Katrina and Otis present regularly at clients' national conferences, as well as at bbcon, NonProfit POWER, P2P Forum and others. They write a monthly column for NonProfit PRO and are the co-authors of the 2017 book, "Dollar Dash: The Behavioral Economics of Peer-to-Peer Fundraising." Click here to download the first chapter.