I Am a Paid Volunteer Fundraiser
"We pay volunteers to fundraise." Even as I write this sentence I realize that the words themselves sound ludicrous. And yet, I see my nonprofit clients try to do it over and over.
This past week a large and prolific group of nonprofit fundraisers came together at the Peer-to-Peer Professional Forum Conference in Orlando, Fla. My particular offering to the group was a rundown of some of the psychological forces at work in peer-to-peer fundraising. I had the help of Otis Fulton, a contributor to the Turnkey brain trust who is trained as a neuropsychologist.
Otis and I talked about the interplay of the conscious and unconscious, and how to influence the conscious mind to help it achieve the blissful state of "willing and ready to fundraise." We also talked about the do's and don'ts of managing the conscious mind of someone now willing and ready to fundraise.
In summary, we said, "Don't try and pay your fundraisers to fundraise. Instead, nurture their internal label of 'I am a fundraiser to cure X.'"
Almost the first email I got in my inbox this morning on my first day back at work was from someone trying to pay me to fundraise. "$5 off your registration fee if you register TODAY!" I am grinding my teeth.
Why, you ask, does giving a $5 discount constitute paying someone to fundraise? Here is how it works ... there are two types of motivation, intrinsic and extrinsic. Intrinsic motivation means that I do what I do because it is consistent with who I am. Extrinsic motivation means I do what I do because I want that X (fill in the blank with an experience or a thing).
Extrinsic motivation relies on escalating levels of reward. If you give a $5 discount this year, I will need a $10 discount next year. Extracting less money from me is a way of paying me or extrinsically rewarding me. And, discounting registration reflects a form of panic on the part of the nonprofit staffer. "I am desperate for registrants; let's discount and get a bump."
E
Otis Fulton and Katrina VanHuss
Author's page
Katrina VanHuss is the CEO of Turnkey, a U.S.-based strategy and execution firm for nonprofit fundraising campaigns. Katrina has been instilling passion in volunteer fundraisers since 1989 when she founded the company. Turnkey's clients include most of the top 30 U.S. peer-to-peer campaigns — Susan G. Komen, the Cystic Fibrosis Foundation, the ALS Association, the Leukemia & Lymphoma Society, as well as some international organizations, like UNICEF.
Otis Fulton is a psychologist who joined Turnkey in 2013 as its consumer behavior expert. He works with clients to apply psychological principles to fundraising. He is a much-sought-after copywriter for nonprofit messaging. He has written campaigns for St. Jude's Children's Research Hospital, the March of Dimes, the USO and dozens of other organizations.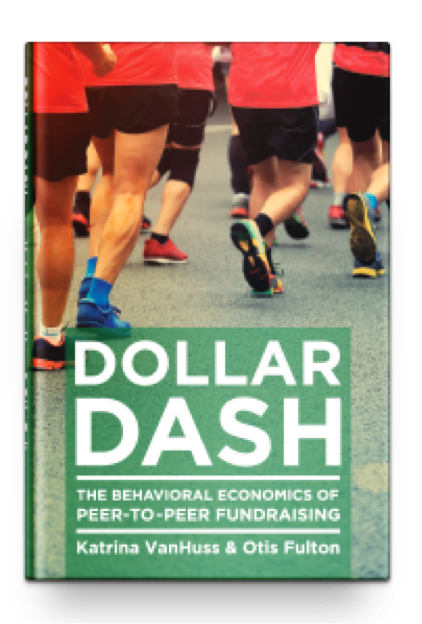 Now as a married couple, Katrina and Otis almost never stop talking about fundraising, volunteerism, and human decision-making — much to the chagrin of most dinner companions. They live in Richmond, Virginia.
Katrina and Otis present regularly at clients' national conferences, as well as at bbcon, NonProfit POWER, P2P Forum and others. They write a monthly column for NonProfit PRO and are the co-authors of the 2017 book, "Dollar Dash: The Behavioral Economics of Peer-to-Peer Fundraising." Click here to download the first chapter.