EOD's and IED's—Similarly Destructive
An IED (improvised explosive device) is a bomb capable of great damage.
An EOD (email operational directive) can be similarly destructive. And I bet we have all thrown a lot of those.
An EOD is an email with really important operational information in it. It might be something like, "From NOW ON, we will ALWAYS send a thank you letter instead of an email." That is one important email.
Unfortunately, if you get hired the next day, you will be sending emails instead of thank you letters, because your direction is in an email you didn't even get.
Organizations are like cars. They need a manual. We give employees an employee manual—a guide to how the human should behave. But, we rarely create and maintain an operational manual—a guide to how the business works.
Often, operations manuals are constructed just before a company is sold, so the new owners know how to do things like create an invoice, or send a thank you letter, or set up a new field in the database. But everyday employees, even in small organizations, need a reference guide for how to do things. And when things change, they need a way to follow the latest instruction that does not include looking for that email. "Gosh, I kind of remember that email, but you know our system purges after 30 days so I'm not sure. Maybe I put it in a folder ... let me check." That place they should look is your operations manual. The EOD is just a bomb.
E
Otis Fulton and Katrina VanHuss
Author's page
Katrina VanHuss is the CEO of Turnkey, a U.S.-based strategy and execution firm for nonprofit fundraising campaigns. Katrina has been instilling passion in volunteer fundraisers since 1989 when she founded the company. Turnkey's clients include most of the top 30 U.S. peer-to-peer campaigns — Susan G. Komen, the Cystic Fibrosis Foundation, the ALS Association, the Leukemia & Lymphoma Society, as well as some international organizations, like UNICEF.
Otis Fulton is a psychologist who joined Turnkey in 2013 as its consumer behavior expert. He works with clients to apply psychological principles to fundraising. He is a much-sought-after copywriter for nonprofit messaging. He has written campaigns for St. Jude's Children's Research Hospital, the March of Dimes, the USO and dozens of other organizations.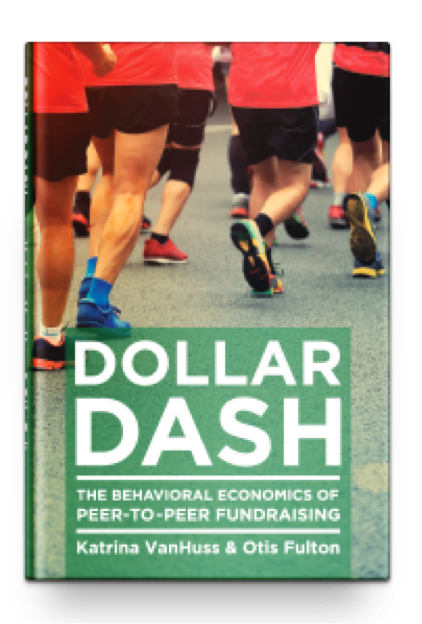 Now as a married couple, Katrina and Otis almost never stop talking about fundraising, volunteerism, and human decision-making — much to the chagrin of most dinner companions. They live in Richmond, Virginia.
Katrina and Otis present regularly at clients' national conferences, as well as at bbcon, NonProfit POWER, P2P Forum and others. They write a monthly column for NonProfit PRO and are the co-authors of the 2017 book, "Dollar Dash: The Behavioral Economics of Peer-to-Peer Fundraising." Click here to download the first chapter.