Blackbaud Study Points to the Future of Peer-to-Peer Fundraising
The Blackbaud "Reimagining Your Peer-to-Peer Fundraising Programs: A Guide to Evolving Beyond Virtual" came out recently. The writing team did a great job of producing valuable data and interpreting it for easy consumption.
The study walks through reimagining in-person events, both competitive and noncompetitive, and digital peer-to-peer programs, like DIY, giving days, livestream and crowdfunding.
Below are the highlights of the entire study, but the opening statement sets the stage for your future peer-to-peer strategy:
"The key to driving local engagement is to give your volunteers, event participants and team captains, the tools, ideas and freedom to engage their local community on their own terms."
Correctly, the document underscores the constituents' desire to feel a sense of community. And that we — professional fundraisers — are perfectly positioned to provide that by tailoring an engaging peer-to-peer fundraising experience. When we do it right, they raise money for a nonprofit mission while at the same time meeting their own personal, human needs.
Big Takeaways
Do something

; don't subject your constituents to the consequences of your indecision. Provide a construct in which they can act locally, reinforcing their identity as someone who is connected to your mission.

Staff also experiences negative consequences of indecision and inaction. Without an overarching goal, staff cannot make autonomous decisions or experience success. Stymied, they become dissatisfied and feel powerless.

Sixty-two percent of events pivoted to virtual, 20% were rescheduled and 18% were canceled.

Overall fundraising is down 53% YOY; registration is down 57% YOY. These declines are increasing over time.

Fall registration declines are far outpacing fall event cancellations. This is bad. The writing team (and we at Turnkey) believe these negative statistics are driven by our collective inaction, by clinging to the promise of in-person events. Your one vocal neighbor who refuses to wear a facemask and believes the pandemic is fake is the exception. A population that is afraid to be in large crowds is the rule.

If you build it, they will not come

. Not right now. Designing a new way to drive engagement is critical to your success. Even more important, it is vital to your constituents' comfort and willingness to engage.

Adoption of

Facebook Fundraising

is growing. Its importance cannot be diminished or ignored. Read the entire section starting on page 11.

Teams are still magic. Team captain engagement has remained most steady.

Average online gift is up, likely due to more committed constituents and the absence of new participants and donors (who have always been less invested).

DIY, relief and crowdfunding are on the rise.
What are the components of the reimagined P2P event?
Community building:

Not "registering" anymore, but "joining the community."

Digital experience: A different one than what they had last year.
Optional on-the-ground experience:

More than a Zoom celebration will be required to satisfy constituents' need for connection and empowerment.
All in all, this is a fantastic study that demonstrates our industry's pivot to focusing on our constituents' needs to design our programs. We can no longer afford to put our own organizational needs first.
Success comes to those who best satisfy the constituent. With healthy respect for the forthcoming "cease-and-desist" letter from Nike, we implore you: "Just Do It."
---
Katrina VanHuss and Otis Fulton have written a book, Dollar Dash, on the psychology of peer-to-peer fundraising. Click here to download the first chapter, courtesy of NonProfit PRO!
E
Otis Fulton and Katrina VanHuss
Author's page
Katrina VanHuss is the CEO of Turnkey, a U.S.-based strategy and execution firm for nonprofit fundraising campaigns. Katrina has been instilling passion in volunteer fundraisers since 1989 when she founded the company. Turnkey's clients include most of the top 30 U.S. peer-to-peer campaigns — Susan G. Komen, the Cystic Fibrosis Foundation, the ALS Association, the Leukemia & Lymphoma Society, as well as some international organizations, like UNICEF.
Otis Fulton is a psychologist who joined Turnkey in 2013 as its consumer behavior expert. He works with clients to apply psychological principles to fundraising. He is a much-sought-after copywriter for nonprofit messaging. He has written campaigns for St. Jude's Children's Research Hospital, the March of Dimes, the USO and dozens of other organizations.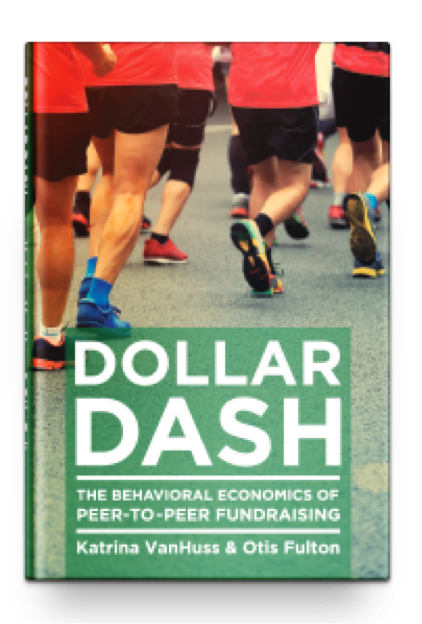 Now as a married couple, Katrina and Otis almost never stop talking about fundraising, volunteerism, and human decision-making — much to the chagrin of most dinner companions. They live in Richmond, Virginia.
Katrina and Otis present regularly at clients' national conferences, as well as at bbcon, NonProfit POWER, P2P Forum and others. They write a monthly column for NonProfit PRO and are the co-authors of the 2017 book, "Dollar Dash: The Behavioral Economics of Peer-to-Peer Fundraising." Click here to download the first chapter.