How to Acquire P2P Fundraisers
Peer-to-peer (P2P) fundraising is built on the backs of multitudes of volunteer fundraisers. And the hardest part of P2P fundraising is finding people willing to lend their backs to the effort, also called acquisition.
Acquisition is difficult. It's hard because we often invite the wrong people to our P2P parties, in the wrong ways. At Turnkey, we classify events into two awkwardly named siblings: retail attractive and retail unattractive.
Retail attractive, I imagine, is a perky redhead with an attitude. She has no problem getting friends to show up, because they anticipate a show of some sort. Her parties are always the best. However, the people who show up don't think that they are there to provide any of the fun. After all, retail attractive is the reason they came. She is the fun. After the party, guests go home a bit tired, and glad for the entertainment.
Her somewhat dumpy sister is retail unattractive. Retail unattractive is not, shall we say, vibrant. She doesn't tell great jokes. She never has the best food at her parties. (In fact, she usually asks you to bring something.) She does not provide entertainment. When you go to her party, you know that you might even be the entertainment. Yet, at her parties, the people there are always oddly so much like you, and there are always great conversations with others there. You leave feeling like you've connected with people. There is something special about her parties. You are apt to want to bring a side dish and be at her next party.
Getting people to each party is different. For retail attractive parties, you promote the party fun. For retail unattractive parties, you promote the people who will be there and the connection one could enjoy.
Thinking about acquisition for each party, the general population has a higher percentage of those looking for a great party—so mass media and paid advertising make sense to acquire for retail attractive. For retail unattractive, finding people who are connected to each other is a different kind of work. For retail unattractive, P2P recruitment is really the best way to find those with connections to each other.
Another way to look at it is that retail attractive events are just that—worth buying. These types of event activities include endurance events, like marathons, cycling events, three-day walks, etc. These are events that you would actually pay for in order to participate. Often they have a for-profit counterpart. As an example, Leukemia & Lymphoma Society Team in Training now has a plethora of for-profit marathon training programs with which it competes, not to mention a lot of knock-off nonprofit competitors.
Retail unattractive events are events in which no entrepreneur is interested. Why? No one wants to buy what is for sale in terms of the activity. A walk? I can walk anytime, anywhere almost. We aren't promoting the activity. We are promoting connection, a cause, an idea of change.
With mass media, I am using an expensive shotgun hoping to hit a few mission-attached people who will respond to my messages. While mass media may draw a few mission-attached folks, the social pressure of P2P recruitment is likely to be more effective.
Otis Fulton, Turnkey's behavioral expert, sees it this way, "The considerable power of social pressure—the power of my relationship with you—even when there is minimal (or no) attachment to the mission, will be effective in getting me to the party. Minimal attachment to the mission (party) alone won't get me there."
Betty Ross, vice president of Walk MS and emerging events, with the National Multiple Sclerosis Society, shared her experience:
With Walk MS, well, there is not much that distinguishes one walk from another. What made us (Walk MS) unique was that the walk raised money for people with multiple sclerosis (MS). Our marketing and outreach looked for people with a connection. It took us time to be able to understand that.

Earlier, we did a lot of mass marketing, which did build some awareness, but, over time, we realized that we need to engage those who care about MS. The experience is important that the logistics were solid, but outside that it was a walk. We made sure there was a mission component. Now we acquire through internal channels, beginning with past participants. Teams are critical, we rely more on friends and family than corporate engagement. If we engage corporations, our goal is that we still have someone with MS on that team. We still need to put a face on it.
It is easier to place mass media buys rather than organize P2P recruitment, which is why many consultants and many nonprofits turn to mass media. It is sticky and messy business to mobilize humans to recruit other humans. But, for the awkward retail unattractive sister, it makes a great party, and raises a lot of money.
E
Otis Fulton and Katrina VanHuss
Author's page
Katrina VanHuss is the CEO of Turnkey, a U.S.-based strategy and execution firm for nonprofit fundraising campaigns. Katrina has been instilling passion in volunteer fundraisers since 1989 when she founded the company. Turnkey's clients include most of the top 30 U.S. peer-to-peer campaigns — Susan G. Komen, the Cystic Fibrosis Foundation, the ALS Association, the Leukemia & Lymphoma Society, as well as some international organizations, like UNICEF.
Otis Fulton is a psychologist who joined Turnkey in 2013 as its consumer behavior expert. He works with clients to apply psychological principles to fundraising. He is a much-sought-after copywriter for nonprofit messaging. He has written campaigns for St. Jude's Children's Research Hospital, the March of Dimes, the USO and dozens of other organizations.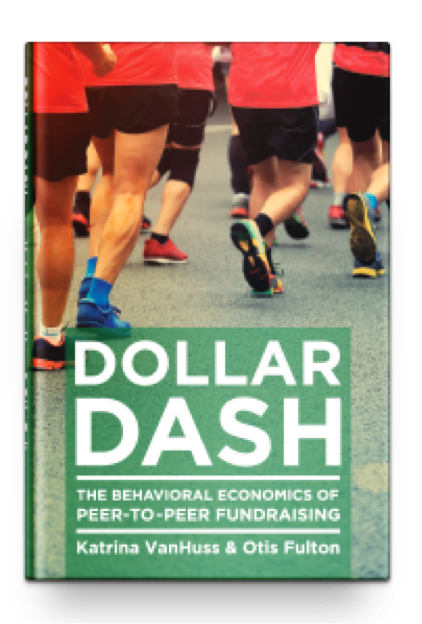 Now as a married couple, Katrina and Otis almost never stop talking about fundraising, volunteerism, and human decision-making — much to the chagrin of most dinner companions. They live in Richmond, Virginia.
Katrina and Otis present regularly at clients' national conferences, as well as at bbcon, NonProfit POWER, P2P Forum and others. They write a monthly column for NonProfit PRO and are the co-authors of the 2017 book, "Dollar Dash: The Behavioral Economics of Peer-to-Peer Fundraising." Click here to download the first chapter.