3 Key Factors Your Value Proposition Needs
I heard a client struggle today in trying to figure out her organization's value proposition. "What is it that we do that makes interacting with us worthwhile, something people can't do without?"
Being something that people feel they can't do without is a high bar, but attainable. But then I thought, if I were selling high-end sneakers, would my athlete buyer respond to the same value proposition as my fashion buyer? Sometimes yes, but sometimes no. Do I need to acknowledge both audiences in my value proposition? Is the bar the same in each audience?
Would my peer-to-peer fundraiser respond to the same value proposition as my donor? Probably, but not necessarily.
To answer this question, Otis Fulton, Turnkey's expert on the psychology of motivation, referred me to the work of economist Daniel Pink. In his book, "Drive, The Surprising Truth About What Motivates Us," Pink identifies three factors that lead to people being satisfied both at work and at home. The three factors that are almost universally important are:
Autonomy, or the desire to be self-directed.
Mastery, or the itch to keep improving at something that's important to us.
Purpose, the sense that what we do produces something transcendent or serves something meaningful beyond ourselves.
When we at Turnkey design and plan interactions between our nonprofit clients and our volunteer fundraisers, we try and deliver these things in the form of that experience. And it is stunningly effective. The masters of this technique are the folks at the American Cancer Society Relay For Life. Their volunteer leadership infrastructure delivers these three necessary elements of satisfaction hand over fist.
But, this delivery of satisfaction is not part of their value proposition. Here's the American Cancer Society value proposition:
Together with our millions of supporters, the American Cancer Society saves lives by:

• Helping you stay well: We help you take steps to prevent cancer or detect it early.

• Helping you get well: We're in your corner to guide you through every step of a cancer experience.

• Finding cures: We fund groundbreaking research into cancer's causes and cures.

• Fighting back: We work with lawmakers to pass laws that defeat cancer and rally communities to join the fight.
This value proposition is working great at large for donors, survivors and caregivers. But another category of relayer is experiencing a different set of benefits.
Relay for Life has created an unarticulated value proposition that includes giving leadership volunteers these opportunities:
Autonomy, which conveys its trust in the volunteer.
Competence, the chance to develop the volunteer's skill set to accomplish important work.
A connection to something greater than themselves, which can become one of the most rewarding aspects of the volunteers' lives.
Sound familiar? Yep—it's Daniel Pink's three factors. The delivery of these elements is the largest part of what is driving the success of Relay For Life, but the trifecta of satisfaction is undefined as having a place in the value proposition.
Question: What would happen if we paid attention—in a measurable way—to the things volunteers find satisfying in their relationships with our organizations?
Answer: We'd see more Relay-esque fundraising.
E
Otis Fulton and Katrina VanHuss
Author's page
Katrina VanHuss is the CEO of Turnkey, a U.S.-based strategy and execution firm for nonprofit fundraising campaigns. Katrina has been instilling passion in volunteer fundraisers since 1989 when she founded the company. Turnkey's clients include most of the top 30 U.S. peer-to-peer campaigns — Susan G. Komen, the Cystic Fibrosis Foundation, the ALS Association, the Leukemia & Lymphoma Society, as well as some international organizations, like UNICEF.
Otis Fulton is a psychologist who joined Turnkey in 2013 as its consumer behavior expert. He works with clients to apply psychological principles to fundraising. He is a much-sought-after copywriter for nonprofit messaging. He has written campaigns for St. Jude's Children's Research Hospital, the March of Dimes, the USO and dozens of other organizations.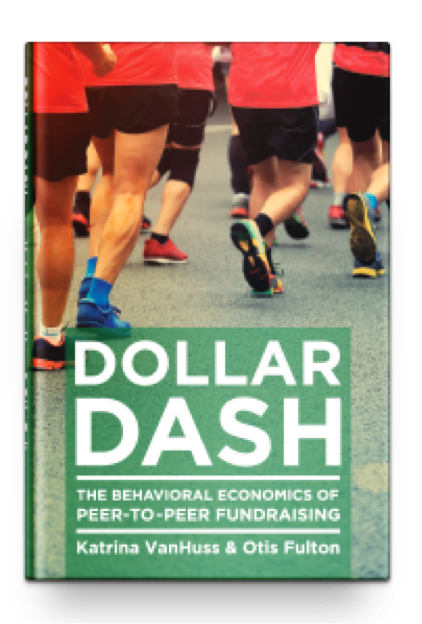 Now as a married couple, Katrina and Otis almost never stop talking about fundraising, volunteerism, and human decision-making — much to the chagrin of most dinner companions. They live in Richmond, Virginia.
Katrina and Otis present regularly at clients' national conferences, as well as at bbcon, NonProfit POWER, P2P Forum and others. They write a monthly column for NonProfit PRO and are the co-authors of the 2017 book, "Dollar Dash: The Behavioral Economics of Peer-to-Peer Fundraising." Click here to download the first chapter.