McWhopper for Charity? McDonald's Says No
Would you eat a McWhopper, the unholy hybrid of a McDonald's Big Mac and a Burger King Whopper? What if it was for charity? If you answered "of course," too bad—McDonald's is having none of it.
A brief timeline: On Wednesday, Burger King ran a full-page ad in the Chicago Tribune and The New York Times, calling for a temporary armistice between the two fast-food behemoths. Burger King suggested that the two companies combine their signature sandwiches into a McWhopper, which would be sold for a single day at a pop-up restaurant in Atlanta with proceeds benefiting Peace One Day, a nonprofit aimed at raising awareness for the International Day of Peace.
Burger King created a slick, dedicated website—mcwhopper.com—with a video, packaging proposals, recipe and hashtag suggestions, and the following proposition for McDonald's: "Burger King genuinely wants to unite with McDonald's on September 21, 2015, to prepare and serve the McWhopper and get the world talking about Peace Day. Naturally, we'll only proceed if you're on board, so we created this site to help you understand our proposal and realize the potential." The chain even reached out directly to McDonald's on Twitter, complete with a wonderful hashtag:
How did McDonald's respond? Not well! "Dear Burger King, Inspiration for a good cause ... great idea," said McDonald's CEO Steve Easterbrook in a Facebook post. "We love the intention but think our two brands could do something bigger to make a difference. We commit to raise awareness worldwide, perhaps you'll join us in a meaningful global effort? And every day, let's acknowledge that between us there is simply a friendly business competition and certainly not the unequaled circumstances of the real pain and suffering of war. We'll be in touch."
If Easterbrook had stopped there, it would have been a reasonable (if misguided and overly serious) response. But then came the kicker, in the message's passive-aggressive postscript: "P.S. A simple phone call will do next time."
And McDonald's doubled down on the passive aggressiveness with a tweet, insinuating that Burger King's proposed cause wasn't "real" enough:
Response was overwhelmingly negative on social media, with fans of the fast food chain ripping its condescending tone and unwillingness to engage Burger King's lighthearted proposal. A sampling of the top replies on McDonald's Facebook post says it all: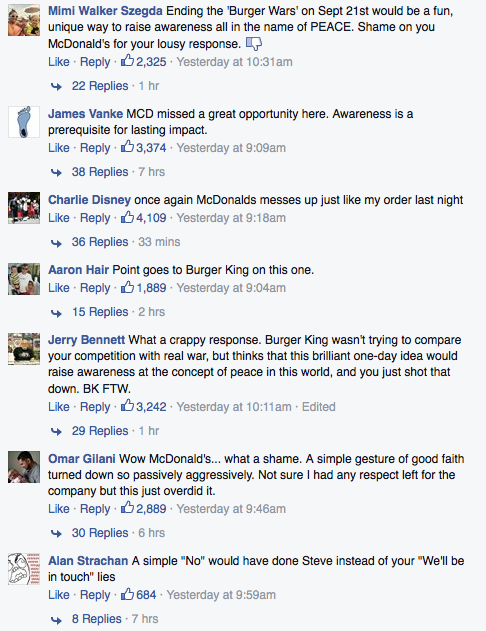 It's possible to argue that Burger King put McDonald's in a difficult spot, springing on its competitor a surprise proposal literally overnight. But McDonald's responded in the worst possible way, handing a major PR win to its chief rival.
And so, our dreams of the magical McWhopper, for charity or otherwise, will remain just that: dreams.
E
Sean Norris
Author's page
Sean Norris is editor-in-chief for Promo Marketing. Reach him at snorris@napco.com.