Matching Donations—The Real Story
Matching donations is a tool that is regularly employed in nonprofit fundraising campaigns. Most of us believe that this appeal works, but without much empirical evidence. It's mostly a gut feeling.
Perhaps not surprisingly, research on matching donations is equivocal. Some studies have found that matching funds increase the likelihood someone will donate any amount, while others have not.
To determine one way that matching funds might work, a team of researchers, led by a Tufts University economist, looked into whether making people feel important by having them unlock matching funds for the nonprofits they support would increase their donations. Their research was published in the academic journal, "Games and Economic Behavior."
To explain what "feel important" means, researchers use the example of NPR, longtime users of the matching gifts scenario. When your NPR station says, "We need 20 donors by the end of the hour to get $500 in matching funds," if you could know for sure that 19 people would respond and donate, you could believe in your power to personally activate the match.
However, if you could be certain that only 18 people will call in, then even if you make a donation, the goal of 20 won't be met. And if you were certain that at least 20 other people will call in, you would realize that you could be the 21st donor or the 22nd. In those cases, your gift would still count, but you wouldn't be helping to make a match.
The researchers reasoned that by manipulating with different thresholds and changing the number of donors needed to unlock matching funds, they could change how important potential donors would feel.
In their study, an education nonprofit mailed five different types of letters asking prospects for donations. Everyone on its mailing list randomly received one of the five letters. They included a traditional dollar-for-dollar match letter—meaning that if donors gave $10, the charity would automatically receive $20—and a control-group letter that simply told people about the nonprofit's mission and asked for a donation.
They also created three letters telling recipients they had been randomly assigned to a group of ten people. One promised that if at least one of the ten donated, the charity would get an extra $50 in matching funds. Another said that if at least two of them made a gift, the nonprofit would receive that $50. The third letter pledged those $50 in matching funds if at least three recipients donated.
Note: Everything researchers told to the participants was true. There was actually a benefactor who promised to make those matches if the various thresholds were met, along with dollar-for-dollar matches if that's what a donor's letter told them would happen across the board.
Eight weeks later, they measured and compared the donation rates for the five kinds of letters.
Only 1.59 percent of the prospective donors who got the control-group letter with no match made donations, the lowest rate. The second lowest donation rate was for those who got a letter requiring one person in 10 to activate matching funds, at 2 percent; followed by a 2.34 percent rate for the people promised an unconditional dollar-for-dollar match. The donation rate among prospective donors told that gifts from two in 10 would activate the match was about the same, 2.35 percent.
For the people told matching funds would require three donors, the donation rate was much higher—3.68 percent. One might have thought that the higher goal would discourage donations. Instead, potential donors seemed to be reacting to the bar being raised by themselves rising to the greater challenge. It's possible that as the goal rose, people felt more needed and so were more likely to give.
Although these numbers might seem modest, donation rates for this kind of campaign typically run only 2 percent and even averages of 0.5 percent or less can be worth it for nonprofits.
To further test whether making people feel more likely to activate matching funds makes them more likely to give to a nonprofit, researchers conducted a follow-up study where they interacted with people in person. They asked them to decide whether to donate and to report how important they thought their gifts would be in terms of activating the matching funds. They found that the more a person thought their gift was likely to activate the matching funds, the more likely they were to donate.
What's the takeaway? Some pitches about matching funds work better than others. The ones that work best make potential donors feel that their gift is a key part of what it will take to unlock that extra money. The numbers may be small, but they are plenty big enough to be worth crafting a thoughtful strategy.
---
Katrina VanHuss and Otis Fulton have written a book, Dollar Dash, on the psychology of peer-to-peer fundraising. Click here to download the first chapter, courtesy of NonProfit PRO!
E
Otis Fulton and Katrina VanHuss
Author's page
Katrina VanHuss is the CEO of Turnkey, a U.S.-based strategy and execution firm for nonprofit fundraising campaigns. Katrina has been instilling passion in volunteer fundraisers since 1989 when she founded the company. Turnkey's clients include most of the top 30 U.S. peer-to-peer campaigns — Susan G. Komen, the Cystic Fibrosis Foundation, the ALS Association, the Leukemia & Lymphoma Society, as well as some international organizations, like UNICEF.
Otis Fulton is a psychologist who joined Turnkey in 2013 as its consumer behavior expert. He works with clients to apply psychological principles to fundraising. He is a much-sought-after copywriter for nonprofit messaging. He has written campaigns for St. Jude's Children's Research Hospital, the March of Dimes, the USO and dozens of other organizations.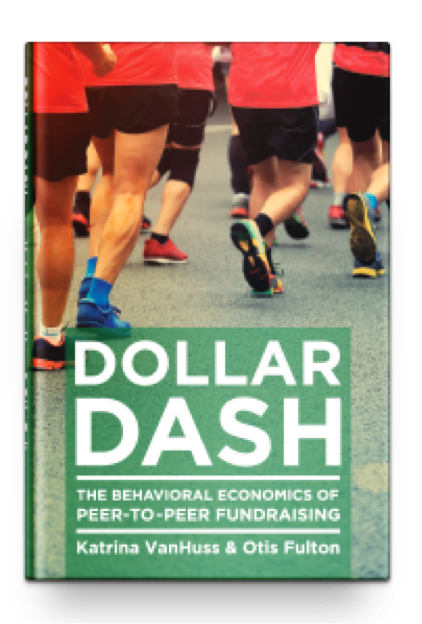 Now as a married couple, Katrina and Otis almost never stop talking about fundraising, volunteerism, and human decision-making — much to the chagrin of most dinner companions. They live in Richmond, Virginia.
Katrina and Otis present regularly at clients' national conferences, as well as at bbcon, NonProfit POWER, P2P Forum and others. They write a monthly column for NonProfit PRO and are the co-authors of the 2017 book, "Dollar Dash: The Behavioral Economics of Peer-to-Peer Fundraising." Click here to download the first chapter.