If your job is in peer-to-peer fundraising, you are in the movement business. Movements are made of humans moving, and while there is no instruction manual for this complex beast, there are some clues about human behavior that can help you get your movement moving.
Last week we talked about the well-known star thrower story by Lauren Eisley. This story illustrates that movements can be about anything and how they can start.
Once again, I went to my personal psychology news feed, the beloved Big O the psychologist, and casually started a conversation about movements.
What I gathered (like shooting fish in a barrel over here to get a blog out of him):
Although movements are diverse with regard to duration, importance and numbers of individuals involved, all movements do have some common features. The three-minute Ted Talk by Derek Sivers, How To Start A Movement, captures the common features of movements beautifully.
(Go watch it and come back. This will make so much more sense if you do.)
Paraphrasing Sivers, here are the steps involved in starting a movement.
First, you need a leader, someone who is not afraid to stand out and be ridiculed. Imagine the girl in the Star Thrower. What she is doing isn't complicated, and her role is to demonstrate how others can follow.
Then you get your first follower, the old man. The first follower "transforms a lone nut into a leader." The leader must embrace the follower as an equal, so now it's about the two of them—plural.
The movement has to be public. Others will join because they are emulating the followers, not the leader.
As the movement gathers momentum, there is a tipping point where it becomes less risky to join the movement than to be left out of the movement.
Two essential features needed to grow a movement are:
Nurturing your followers as equals so it's about the movement, not the leader.
Emphasizing that leadership is over-glorified—it is the followers who make the difference in sustaining a movement. What is important is having the courage to follow, and showing others how to follow.
The best example of this dynamic at work in my mind is the American Cancer Society Relay For Life. The lone nut? Gordy Klatt. The first follower? Pat Flynn. Emphasis that leadership is over-glorified? Illustrated by the magnificent emphasis that Relay put on field-level volunteers during Relay's massive growth in the late 80's and 90's.
Who is your lone nut? Who is your first follower? Or, are you running a marketing program featuring a product?
E
Otis Fulton and Katrina VanHuss
Author's page
Katrina VanHuss is the CEO of Turnkey, a U.S.-based strategy and execution firm for nonprofit fundraising campaigns. Katrina has been instilling passion in volunteer fundraisers since 1989 when she founded the company. Turnkey's clients include most of the top 30 U.S. peer-to-peer campaigns — Susan G. Komen, the Cystic Fibrosis Foundation, the ALS Association, the Leukemia & Lymphoma Society, as well as some international organizations, like UNICEF.
Otis Fulton is a psychologist who joined Turnkey in 2013 as its consumer behavior expert. He works with clients to apply psychological principles to fundraising. He is a much-sought-after copywriter for nonprofit messaging. He has written campaigns for St. Jude's Children's Research Hospital, the March of Dimes, the USO and dozens of other organizations.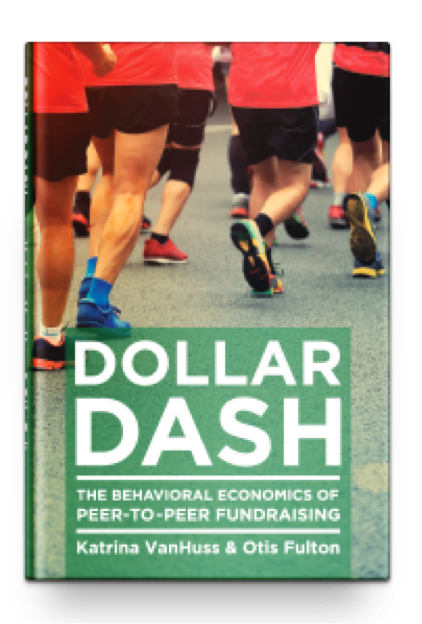 Now as a married couple, Katrina and Otis almost never stop talking about fundraising, volunteerism, and human decision-making — much to the chagrin of most dinner companions. They live in Richmond, Virginia.
Katrina and Otis present regularly at clients' national conferences, as well as at bbcon, NonProfit POWER, P2P Forum and others. They write a monthly column for NonProfit PRO and are the co-authors of the 2017 book, "Dollar Dash: The Behavioral Economics of Peer-to-Peer Fundraising." Click here to download the first chapter.