In this special monthly series of The NonProfit Voice, Mark Becker, founding partner of Cathexis Partners and editorial advisory board member of NonProfit PRO, will have conversations with prominent nonprofit organizations and industry thought leaders to learn more about innovative digital tools and how to navigate the rapidly evolving technology landscape.
In this episode of The NonProfit Voice Tech Series, Mark is joined by Maureen Wallbeoff, a nonprofit digital strategist and technology coach, to share her insight on how to find and maximize a content management system for a nonprofit website.
Follow us!
---
Maureen Wallbeoff brings more than 20 years of strategic and technical experience working inside nonprofit organizations and supporting nonprofit staff as a trusted advisor. Maureen was a founder of Firefly Partners, a creative digital agency providing services exclusively to nonprofits, in 2008. She spent the past decade as VP of Firefly, directing a team of twenty designers, developers and strategists. Her clients include Be The Match, Boston Medical Center, New Hampshire Public Radio, Living Beyond Breast Cancer, Greater Yellowstone Foundation, American kidney Fund and the National LGBT Task Force. She has authored two popular guides to nonprofit engagement software. Maureen's sweet spot is merging the 30K foot strategic view with practical, hands-on-keys recommendations. She is focused on helping nonprofit staff solve technology challenges, so they can use their marketing, fundraising, and CRM systems more effectively.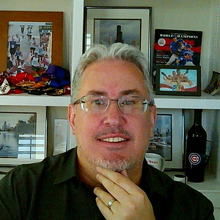 Mark Becker founded Cathexis Partners in 2008 to help nonprofit organizations get the most from their existing technology tools, implement new technology to address gaps and find the best overall approach to using technology to support their missions. He previously served as director of IT consulting at a fundraising event production company focused on nonprofits. Mark also serves on the editorial advisory board for NonProfit PRO, where he contributes monthly to his blog, "P2P Fundraising Essentials."