MADD's Nick Ellinger to Present at NonProfit PRO Emerging Tech & Growth Conference
Nick Ellinger has been busy. As vice president of strategic development for Mothers Against Drunk Driving (MADD), Ellinger was tasked with unifying MADD's network of databases—including 20 in its home office and hundreds more in the field, with record systems running the gamut from custom databases to Access to Excel to pen-on-paper. It was a monumental task, one that's still underway, but with Ellinger's guidance, MADD has begun the critical task of achieving a true omnichannel marketing strategy.
Now, at the NonProfit PRO Emerging Tech & Growth Conference, Ellinger will share valuable lessons learned from the experience. The 45-minute session, A Technology Odyssey Toward Omnichannel Marketing, will cover critical tech knowledge for the modern nonprofit, including how to:
Structure your data systems for success
Work with the human element in your efforts to progress
Integrate your marketing messages for ominchannel success
And more
So, join us at the NonProfit PRO Emerging Tech & Growth Conference, July 21 at WHYY in Philadelphia, to catch presentations from Nick and a host of other great speakers. And don't forget to stay on the lookout for more conference updates on our website and in our daily e-newsletter.
Click here for more information, including a code for discounted registration.
We can't wait to see you there!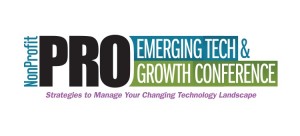 E
Sean Norris
Author's page
Sean Norris is editor-in-chief for Promo Marketing. Reach him at snorris@napco.com.