Liveblog: NonProfit PRO P2P: Redefining Peer to Peer Conference
It's here! The NonProfit PRO P2P: Redefining Peer to Peer Conference is happening. Right now. We're just moments away from a jam-packed day of presentations from P2P experts from ALS Association, Project HOPE, MD Anderson Cancer Center, National Kidney Foundation, Ulman Cancer Fund for Young Adults and more.
Are you here? You should be! But if you couldn't make it, fear not: We'll be providing live coverage of the event throughout the day, updating with key information, photos and tidbits from the conference. This post will serve as your go-to hub for everything, so make sure to check in throughout the day. We'll also be tweeting whenever this post is updated, so follow us on Twitter if you don't already. (One programming note: This post will display the most recent content first, so scroll down for previous updates. If you don't see any updates, try refreshing your browser.)
Let's roll!
3:30 p.m.
That's a wrap! Time for happy hour. Thanks so much to all our speakers and sponsors for making this thing happen. Hope to see you at our next event!
3:13 p.m.
Mendez: "How are you injecting your mission into the event itself." For MD Anderson Cancer Center's walk, the organization is offering share-able branded photo opportunities, "surprise and delight moments" and strategic recognition—when volunteers hit a certain goal, for example, MD Anderson staff will visit them wearing tutus.
3:11 p.m.
Questions to ask in preparation for your P2P event: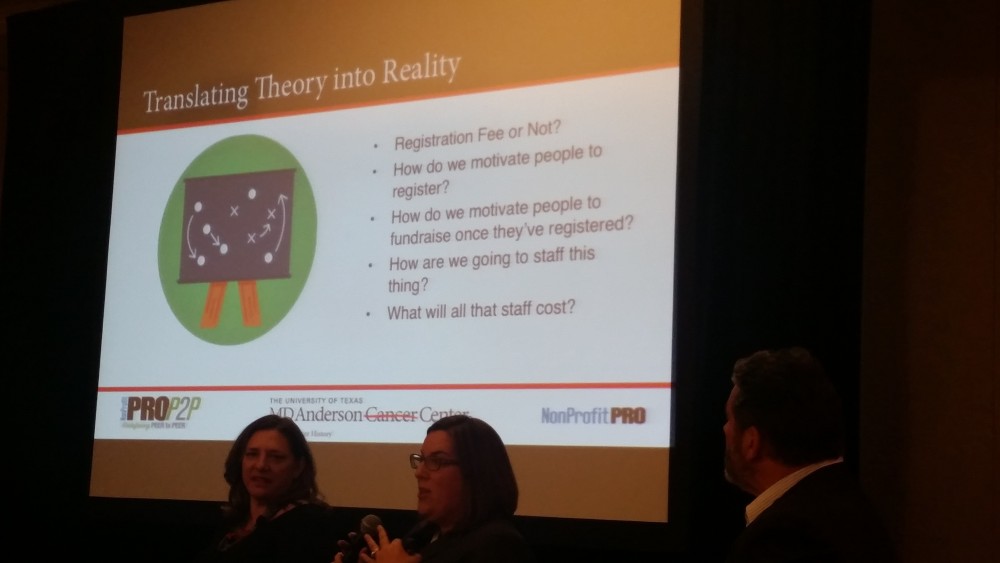 2:55 p.m.
Fulton: In P2P, "people like to be consistent over time. If you can get someone to do something small, they're going to be more likely to do something larger."
2:50 p.m.
Mendez: "Novelty is less important. Removing all barriers for people to participate in an event is critical. Find an excuse for individuals who feel passionate about your organization to get involved."
2:45 p.m.
Now up, our final presentation of the day: Robyn Mendez, Otis Fulton and Donna Wilkins on the social science behind event construction.
1:38 p.m.
How do you generate engagement outside the day of the event? Alzheimer's Association's Longest Day event also built an online community to help foster year-round engagement. The results:
1:29 p.m.
Here's how important community is: Event participants who used American Cancer Society's Relay Nation online community started fundraising 87 days earlier, leading to 352 percent increase in dollars raised per participant. It's all about creating that community and giving participants the tools to fundraise.
1:21 p.m.
Michael Wilson presenting on four events that have succeeded in creating communities. First: American Cancer Society Relay for Life. Before it was a $335 million giant, Relay for Life was actually a user-generated event—a crowdsourced idea.
1:05 p.m.
Much like Lance mentioned his presentation, one of the biggest challenges is to inform donors, volunteers, potential donors, etc. National Kidney Foundation did so with a video, "Everybody Pees" (naturally), which logged 1.5 million views. Go watch it now! Thank us later.
1:00 p.m.
Kuckleman on post-event surveys: "What did they like, What didn't they like? Where can we make improvements?"
12:55 p.m.
Back from lunch. Presenting now is Krystn Kuckelman of National Kidney Foundation along with Michel Wilson of Small World Labs. They'll be taking the group through some case studies in run and walk events. Right now, Krystn is discussing the importance of data in relation to user experience—"we want to hear from our participants what their experience was like.:
11:51 a.m.
Collaborate, collaborate, collaborate. Yetso cites the craft beer story and how small breweries created a shared enemy (big breweries like Anheuser-Busch) and worked together to get their message out. They told a good story.
11:42 a.m.
Much of Ulman Cancer Fund's success comes from the way it's been able to engage its volunteers. Many of the top for-profit companies—Starbucks, Zappos, Southwest Airlines—are so successful because they build great teams. To begin building at the grassroots level, it's critical to make sure your employees and volunteers are engaged.
11:35 a.m.
Seven tips from Yetso on succeeding in P2P: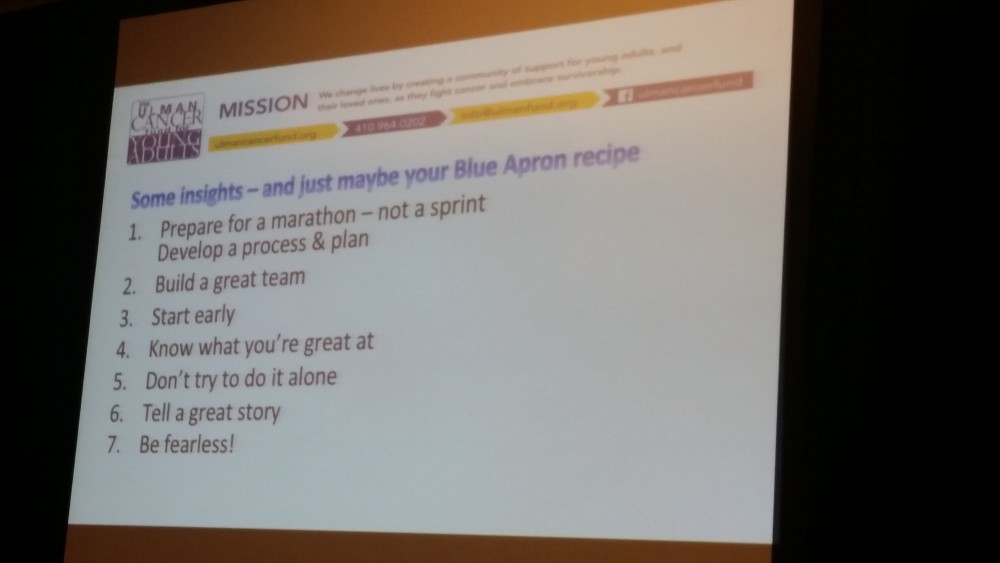 11:31 a.m.
Yetso: "Know the numbers. The numbers don't lie. If we don't know where the money's coming from and where it's going—both for ourselves and our donors—we're going to be in trouble."
11:20 a.m.
Brock Yetso: Charitable giving in the U.S. in 2013 was $335 billion, 87 percent of it from individual giving.
11:06 a.m.
And we're back after a quick break! Up now: Brock Yetso of Ulman Cancer Fund for Young Adults on grassroots fundraising. Ulman Cancer Fund grew from a small volunteer-run organization to one with communities in all 50 states and raised $15 million—almost entirely grassroots-style.
10:43 a.m.
Key takeaways from ALS Association on Ice Bucket Challenge:
1. Be humble, be nimble, be responsive.
2. Be ready.
3. Ensure campaign content is direct to appropriate audiences with desired effect and impact.
4. Anything is possible.
10:30 a.m.
ALS Association realized early on that to engage the huge potential donor base it now had, the organization needed to show donors where their donations were going and how they were being used. The Association created easy-to-digest, visually appealing infographics as one method of relaying this information:
10:25 a.m.
Andrew Shoaff: "One of the principle reasons people give for not donating a second time: 'No one said thank you.'"
10:22 a.m.
Lance Slaughter: "Ice Bucket Challenge wasn't a P2P fundraising campaign. It was a P2P engagement campaign." It's an opportunity to rethink how we do our peer-to-peer campaigns—cultivate not fundraisers, but evangelists.
10:10 a.m.
One of the challenges ALS Association faced early on when the Ice Bucket Challenge took off was cynicism in the media and otherwise calling the the campaign "slacktivism." But ALS Association didn't believe that. The organization knew that its constituents were social media and technology savvy, and it could see that the campaign was beginning to raise awareness at unforeseen levels. The donations would soon follow. Within days, donation volume increased to more than $10 million a day. The average donation amount? $40.
10:00 a.m.
Up now: ALS Association's Lance Slaughter and Blackbaud's Andrew Shoaff on how ALS Association sustained the momentum it captured during the Ice Bucket Challenge.
9:50 a.m.
Another big key: Make sure your entire organization is ready for P2P.
9:46 a.m.
Jennings: "The key is to pivot and be able to make adjustments in your plan."
9:45 a.m.
Lynn Jennings: "We didn't have a volunteer base, so in year two it's going to be all about developing those volunteer relationships on a grassroots level."
9:42 a.m.
Armbruster: "The challenge for us was how do you create an event that captures everything that Project HOPE does?" Project HOPE's Day of Crisis, a team endurance event, featured obstacles recreating some of the disaster situations to which the organization has provided aid. The biggest challenge was selling and marketing an event of that scale and complexity.
9:32 a.m.
Rachel Armbruster: "You have to build in flexibility with your team internally, with your board members and with your staff."
9:22 a.m.
Rumsey: For success in P2P, "we had to build an A-Team." Actual, not-at-all-doctored photo: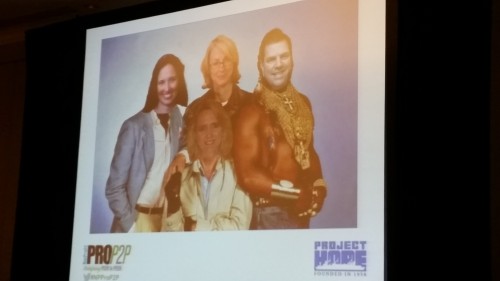 9:10 a.m.
And we're off! Rich Rumsey, Lynn Jennings and Rachel Armbruster presenting on Starting Off in P2P. Rich giving a bit of background on how Project HOPE's beginnings in P2P: "We made it just about as hard as possible." Rich and his team essentially had to rebuild the organization's P2P program from the ground up.
7:45 a.m.
Home for the day's proceedings! Constellation A room. Can't wait to kick things off!
E
Sean Norris
Author's page
Sean Norris is editor-in-chief for Promo Marketing. Reach him at snorris@napco.com.