Why We Do What We Do: Willing to Be Taken, In Order to Give
I will do damn near anything to avoid hurtful political conversations with my family. This year, with so much potential for such conversations, I volunteered to help house homeless women in our church from Dec. 23 to Dec. 31. That pretty much cleared the social calendar of any kind of gathering that could cause ill will. And it allowed me to serve a community that I see as misunderstood.
With this service, I also delivered to myself a sorely needed dose of contentment about my chosen profession.
I'd like to share with you just one story from one lady we are housing. Last night around 9 p.m. a young woman stopped by the church kitchen and leaned through the serving window.
"Miss Katrina," she said. "I want you to know how much I appreciate you people, and what you're doing for me."
This was odd, as moments before, I had seen her shake her head "no" to a request from another lady to carry pitchers of water to the sleeping area.
She said, "I know you saw me just be unhelpful. I want to tell you why."
"My mother told me not to entertain too many men, and to avoid bad company," she said. "I think I have to be careful to avoid bad company here, and sometimes that means I can't interact at all."
I understood what she was saying, as I had seen evidence of her correct judgment already.
This woman clearly had benefited from a good upbringing. She was dignified, yet respectful. She was helpful. She wasn't greedy, and often put others' needs before her own. She went on, with questions from me, to tell me about her life. Here it is, paraphrased:
I lived with my mother and brother. For about 4 years in my youth, my brother sexually abused me. Did my mother know? I don't know. I felt it was my fault. The first time it happened, my cousin told me it was because of the sleeping gown I was wearing. But she gave me that gown because she outgrew it.

I tried not to think about it, and just tried to do what I was supposed to do to be good. I was good in school, and didn't get in trouble. My brother moved away, and life got better. I took care of my mom and my grandmother over time, because both were in bad health at one time or another. I worked at good jobs, like assistant manager and supervisor. I did all right, living with my family.

Then, my brother wanted to move back in. I told my mother I couldn't live with him. She wouldn't tell him no. The day he moved in, I moved out. I had to get my own place with no roommate. So then, I was living hand to mouth. I lost my job, and a missed paycheck later, I was homeless.

I sleep in churches at night. During the days, I look for work. And now, I see a counselor. She talks to me a lot about my brother, my own self-esteem, my efforts to get a job. She tells me I already did the hard thing, removing myself from the situation. I hope she is right. I have enough experience to get any $7-an-hour job. But the problem is, once I take one, then I can't look for a $15-an-hour job. And you can't pay rent on $7 an hour. I am holding out, hoping that I can land a better job that helps me make enough to pay rent, but I'm anxious not taking the first thing I get. I just don't know what to do, and I want a home so bad.

Thank you for helping me.
It's easy to paint the homeless as less-than, as lazy, as weak. My experience with them does not support that idea. No one wants to be homeless. So many of their stories sound like this one. But even if every single other person we are serving at my church this week was taking advantage of us and just loves sleeping on mats at a different church every week, to serve this one woman would make it worthwhile.
If you are raising money to make something better, this is who you are: someone willing to be taken, in order to give.
E
Otis Fulton and Katrina VanHuss
Author's page
Katrina VanHuss is the CEO of Turnkey, a U.S.-based strategy and execution firm for nonprofit fundraising campaigns. Katrina has been instilling passion in volunteer fundraisers since 1989 when she founded the company. Turnkey's clients include most of the top 30 U.S. peer-to-peer campaigns — Susan G. Komen, the Cystic Fibrosis Foundation, the ALS Association, the Leukemia & Lymphoma Society, as well as some international organizations, like UNICEF.
Otis Fulton is a psychologist who joined Turnkey in 2013 as its consumer behavior expert. He works with clients to apply psychological principles to fundraising. He is a much-sought-after copywriter for nonprofit messaging. He has written campaigns for St. Jude's Children's Research Hospital, the March of Dimes, the USO and dozens of other organizations.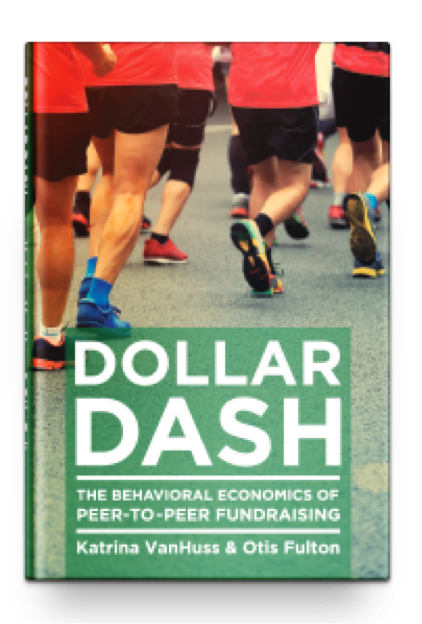 Now as a married couple, Katrina and Otis almost never stop talking about fundraising, volunteerism, and human decision-making — much to the chagrin of most dinner companions. They live in Richmond, Virginia.
Katrina and Otis present regularly at clients' national conferences, as well as at bbcon, NonProfit POWER, P2P Forum and others. They write a monthly column for NonProfit PRO and are the co-authors of the 2017 book, "Dollar Dash: The Behavioral Economics of Peer-to-Peer Fundraising." Click here to download the first chapter.