The Art of the (Social Media) Ask
At Turnkey, we're often asked about how to use social media to drive peer-to-peer fundraising. For help, predictably, I turn to someone younger than me. (It is sad when you commit ageism on yourself.) To Julian May, Turnkey's ace copywriter and social media guru, I go. He also happens to wear untucked plaid shirts and has fast hair. So, he has got to be good (and, he is). Said Julien:
Social media is one of the powerful tools that fundraisers have sitting in their back pockets. At no cost to the nonprofit or to the participant, powerful fundraising messages can be communicated to the participant's personal network. This includes many potential supporters that the fundraiser may not have been comfortable contacting directly. Additionally, this is an effective method for increasing the visibility of both the nonprofit and the participant's upcoming event, potentially creating new registrants. So, how can we make an effective social media ask in our messaging materials that harnesses this power?
The art of the social media ask can be broken down into three simple components:
Emphasize the direct benefit of the action to the participant
Minimize the participant's action in terms of effort
Forecast success
The first step is the easiest. Some participants don't realize that their existing social presence offers them a network of potential supporters just waiting to be tapped. For participants, social media is one of the easiest places to find early and quick success in their fundraising. So you can share with them how easy it will be to reach their first fundraising goal with just one quick post. By both encouraging them to action and illustrating the direct benefit of that action, you are able to reframe the ask as a hot fundraising tip rather than a cold call to action.
Minimizing the action we are requesting of the participant is a concept that has been around for a long time in the marketing world: "It's so easy, just pick up the phone and call today!" Social media lends a whole new meaning to the concept of a easy action: Just point and click. By providing participants with a link to a post they can share on Facebook, we make our ask a two-click process and relieve them of having to draft their own messages. Social integration in many fundraising platforms also makes this ask even easier to make. Participants will find greater success as we provide them with effective content.
Last but never least is forecasting success. Whenever we make an ask of our participants, it's important to communicate—this works! Yes, they will raise funds for the organization; we want to offer the participant a path to fundraising success. When we make social asks in the messaging we develop for nonprofits, we use definitive language that assures the desired outcome rather than framing it as a possibility. This kind of language is actually pretty simple: "If you post about your fundraising goals, then your social connections will support you and help you reach them."
By employing this three-tier strategy, we are speaking with authority to an audience that wants to be successful. In doing so, we not only increase the visibility and presence of the nonprofit across social media, but also help participants achieve their full potential in their fundraising efforts.
(It is good to hire well.)
E
Otis Fulton and Katrina VanHuss
Author's page
Katrina VanHuss is the CEO of Turnkey, a U.S.-based strategy and execution firm for nonprofit fundraising campaigns. Katrina has been instilling passion in volunteer fundraisers since 1989 when she founded the company. Turnkey's clients include most of the top 30 U.S. peer-to-peer campaigns — Susan G. Komen, the Cystic Fibrosis Foundation, the ALS Association, the Leukemia & Lymphoma Society, as well as some international organizations, like UNICEF.
Otis Fulton is a psychologist who joined Turnkey in 2013 as its consumer behavior expert. He works with clients to apply psychological principles to fundraising. He is a much-sought-after copywriter for nonprofit messaging. He has written campaigns for St. Jude's Children's Research Hospital, the March of Dimes, the USO and dozens of other organizations.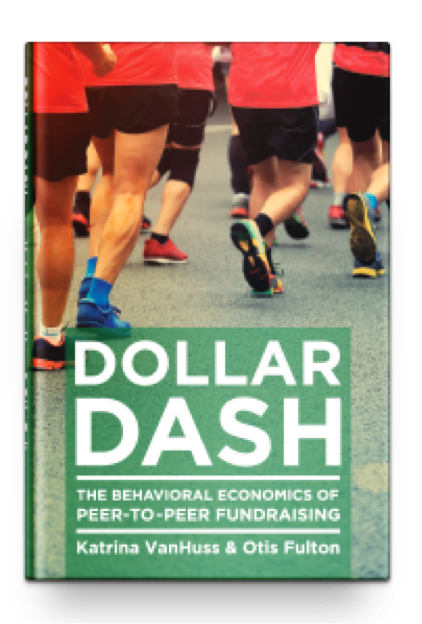 Now as a married couple, Katrina and Otis almost never stop talking about fundraising, volunteerism, and human decision-making — much to the chagrin of most dinner companions. They live in Richmond, Virginia.
Katrina and Otis present regularly at clients' national conferences, as well as at bbcon, NonProfit POWER, P2P Forum and others. They write a monthly column for NonProfit PRO and are the co-authors of the 2017 book, "Dollar Dash: The Behavioral Economics of Peer-to-Peer Fundraising." Click here to download the first chapter.