Sell to Me or Ask for My Support. Pick One. 
I have a favorite charity that regularly demands I buy from it, but rarely asks that I support it. Since September, I have received 23 emails from this organization. Eight of those emails had the word "buy" or a cash prize for something in the subject line. Only one email, under the guise of a "thank you" was a direct solicitation for a donation without some offer of goods and/or services in exchange. Every other email sought to entice me into a purchase.
Of the 23 emails, the most overt "buy me" subject line examples are:
Save $10 when you buy [X number of] tickets now!
Price bump on Sunday!
Want to Win $100 Visa Card?
Are you entered to win a one-night stay at [location]?
Want to Win $5,000 in cash?
Only 5 days until the price bump for [the event]!
There is one clear issue, and one less clear but more important issue. The easy one first.
A review of the contents of this series of email offers reveals a complex web of retail opportunities designed to extract margin to yield profit. And profit is fine, if that is our business model. We must ask, however, are we selling something for a high enough price and margin that we will raise sufficient funds to impact the mission? When all costs are included, like staff time, rarely do we raise enough money through margin-making efforts.
Here is one of the offerings from this nonprofit:
Dinner, live music, two drink tickets, one prize ticket and a $700 casino voucher is included with your registration fee.
Additional prize tickets will be available for a donation of $5 each and will include a $1,000 casino chip at no charge. There will also be a cash bar.
Enjoy two craps tables (novice and experienced), three black jack tables and a roulette table, a silent auction, free photo booth and cornhole!
You must be 21+ to attend!
Clearly the organizer has, in excellent-for-profit form, decided to extract cash in every way possible by creating multiple revenue streams.
Let's move on to the second, more important but less clear issue with this method. By raising money through selling, we preclude the majority of the opportunity to raise money through soliciting gifts. Buying something and giving something don't really happen in the same environment, and getting into a relationship with your donor characterized by a transaction will impact later income. Here's how:
To put it in psychological terms, I quote my beloved and Turnkey's psych expert, Otis Fulton:
People live in two worlds—one governed by social relationships and one governed by market relationships. Ideally, nonprofits are engaged in social relationships with their supporters. People who are in social relationships report doing pro-social behaviors (donating, fundraising, etc.) because "it is the right thing to do." Introducing cash or cash equivalents into the equation conveys the unmistakable message that you're not involved because "it's the right thing to do," you're in it for the stuff (gift card, free trip, complimentary buffet dinner).

And as behavioral economist Dan Ariely explains in his book, "Predictably Irrational," when market relationships and social relationships compete, market relationships almost always "crowd out" social relationships. Once people frame their relationship as a market-based exchange, it is very difficult to get them back into a social relationship. As Ariely says, "once you have offered to pay for her delightful Thanksgiving dinner, your mother-in-law will remember the incident for years to come."
By inspiring a market relationship, you unwittingly indicate to the person to whom you are selling that no gift is needed, because the terms of the deal have been met. By putting a purchase price on supporting your mission you undermine the connection of the person to your mission. They unconsciously replace the idea that they support your mission with the idea that they simply want to buy what you are selling. That kind of a relationship means that if you want more money you will have to make better offers. You're going to have to give me a deal, because you've made me a buyer.
When selling on margin for a nonprofit, you leave money on the table and destroy relationships. You're just running a sale.
E
Otis Fulton and Katrina VanHuss
Author's page
Katrina VanHuss is the CEO of Turnkey, a U.S.-based strategy and execution firm for nonprofit fundraising campaigns. Katrina has been instilling passion in volunteer fundraisers since 1989 when she founded the company. Turnkey's clients include most of the top 30 U.S. peer-to-peer campaigns — Susan G. Komen, the Cystic Fibrosis Foundation, the ALS Association, the Leukemia & Lymphoma Society, as well as some international organizations, like UNICEF.
Otis Fulton is a psychologist who joined Turnkey in 2013 as its consumer behavior expert. He works with clients to apply psychological principles to fundraising. He is a much-sought-after copywriter for nonprofit messaging. He has written campaigns for St. Jude's Children's Research Hospital, the March of Dimes, the USO and dozens of other organizations.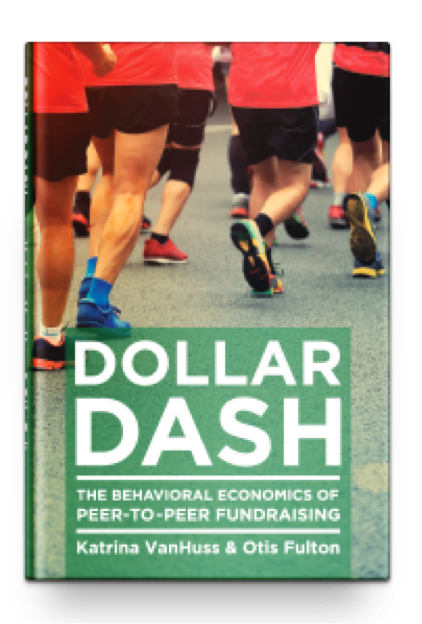 Now as a married couple, Katrina and Otis almost never stop talking about fundraising, volunteerism, and human decision-making — much to the chagrin of most dinner companions. They live in Richmond, Virginia.
Katrina and Otis present regularly at clients' national conferences, as well as at bbcon, NonProfit POWER, P2P Forum and others. They write a monthly column for NonProfit PRO and are the co-authors of the 2017 book, "Dollar Dash: The Behavioral Economics of Peer-to-Peer Fundraising." Click here to download the first chapter.