The Perfect Business Partner/Client Relationship
The business partner/client relationship does not have the best reputation. This YouTube video pretty much sums up what the worst relationship can look like from the business-partner perspective. This is not fiction.
On the other hand, "caveat emptor," meaning "buyer beware," is a well-known Latin phrase for a reason.
What does the perfect business partner/client relationship look like? Here's a story that exemplifies it:
Sometime in the early 2000s, I met an American Cancer Society Relay For Life division director. We were serving Relay for Life across the nation, but this client was different. When I said, "I was thinking about what it would mean if we stopped using trickle-down communications and started communicating recognition offers directly to fundraisers."
My client said, "Well, Katrina, it would mean that we can measure ROI first off. And, it would mean that we could guarantee a consistent experience, No. 2. And it would mean that they would get at least one email that wasn't asking for money. I like it. Make it so."
"Make it so."
Wow. That was my first experience with a client who was also a powerful and inspiring leader. She acknowledged me. She affirmed me. She set me free to "make it so." She also held me accountable. She made me want to please her, not just get paid.
Did we have bumps getting there? Absolutely. She always gave me room to fix it. Would I do anything to make it right in any scenario? Absolutely. There was trust and openness on both sides of the fence, and that allowed us to do our work together brilliantly. What we created together during that engagement laid the foundation for the work Turnkey does now, continuing to explore the mind of the peer-to-peer fundraiser using the business intelligence that database-captured activities create, and using social science to understand and lend theory so data makes sense.
Recently, this leader left the nonprofit world. This is a huge loss to the industry. I fixed it the only way I knew how. I hired her. If I can apply this kind of leadership to multiple organizations, maybe the loss to the industry is a good thing.
Meet Vickie LoBello, Turnkey's lead strategist, and one of my most treasured clients.
E
Otis Fulton and Katrina VanHuss
Author's page
Katrina VanHuss is the CEO of Turnkey, a U.S.-based strategy and execution firm for nonprofit fundraising campaigns. Katrina has been instilling passion in volunteer fundraisers since 1989 when she founded the company. Turnkey's clients include most of the top 30 U.S. peer-to-peer campaigns — Susan G. Komen, the Cystic Fibrosis Foundation, the ALS Association, the Leukemia & Lymphoma Society, as well as some international organizations, like UNICEF.
Otis Fulton is a psychologist who joined Turnkey in 2013 as its consumer behavior expert. He works with clients to apply psychological principles to fundraising. He is a much-sought-after copywriter for nonprofit messaging. He has written campaigns for St. Jude's Children's Research Hospital, the March of Dimes, the USO and dozens of other organizations.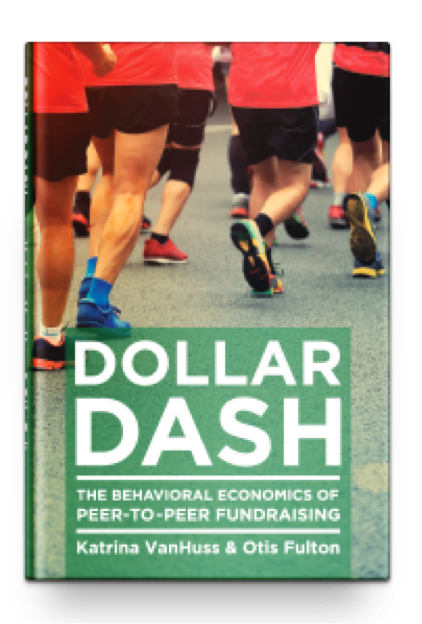 Now as a married couple, Katrina and Otis almost never stop talking about fundraising, volunteerism, and human decision-making — much to the chagrin of most dinner companions. They live in Richmond, Virginia.
Katrina and Otis present regularly at clients' national conferences, as well as at bbcon, NonProfit POWER, P2P Forum and others. They write a monthly column for NonProfit PRO and are the co-authors of the 2017 book, "Dollar Dash: The Behavioral Economics of Peer-to-Peer Fundraising." Click here to download the first chapter.