Vas Madness: What Nonprofits Can Learn From a March Madness Trend
Men queue up for vasectomies once a year — the first day of the first round of March Madness. I would give a reference, but who would believe that ANYBODY actually studies that? They do. Hit Google. The sheer volume of hits is worth doing it. Here's a gimme.
Sixteen games on Thursday, 16 games on Friday, eight on Saturday and eight on Sunday.
Good plan.
Urologists noticed a bump in vasectomies at the start of March Madness, and they took action. Vas Madness was born. Urologists got a bit of data — wow, we do a lot of vasectomies during March Madness — and took advantage of the landscape represented by that data.
Nonprofit income departments can do that too, if we don't get in our own way. Our field event staff and leadership volunteers bring us ideas every day. Some of these ideas have some amount of data behind them, as they have been tried in the field. Others, no data at all.
Most often, the new idea simply does not fit into our current construct. The new idea challenges a brand standard, doesn't conform to our idea of volunteer roles, messes with what we told our staff to do in the employee manual we just published or sounds a lot like something we already tried. We dismiss the idea. In short, we are bad at taking advantage of new ideas and recognizing data that shows up, gift-like.
We can fix that.
What if we had a system that helped people with ideas express them successfully? What if we gave volunteers, field staff, everybody we touch, the tools to benchmark and measure the impact of their ideas, and a framework within which to express the idea and the results to leadership? What if we even told them the likely "idea killers"? (The process-related things that make using a new idea a massive pain in the asparagus.) What if we rewarded them for participating in creating new ways to do things? Then, what if we level the playing field on presentation of the idea so the blowhard doesn't always win?
What would happen then?
You'd save time. A lot of ideas would never hit your door, because you would have empowered people to make great decisions about what should hit your door. The ideas that do show up would be worth taking the time to evaluate and potentially test more fully. You would be, by the very construction of this process, celebrating the idea of the idea. And, most important, people would not think you and your department are self-aggrandizing, insular know-it-alls.
That would be good. Viva Vas Madness.
E
Otis Fulton and Katrina VanHuss
Author's page
Katrina VanHuss is the CEO of Turnkey, a U.S.-based strategy and execution firm for nonprofit fundraising campaigns. Katrina has been instilling passion in volunteer fundraisers since 1989 when she founded the company. Turnkey's clients include most of the top 30 U.S. peer-to-peer campaigns — Susan G. Komen, the Cystic Fibrosis Foundation, the ALS Association, the Leukemia & Lymphoma Society, as well as some international organizations, like UNICEF.
Otis Fulton is a psychologist who joined Turnkey in 2013 as its consumer behavior expert. He works with clients to apply psychological principles to fundraising. He is a much-sought-after copywriter for nonprofit messaging. He has written campaigns for St. Jude's Children's Research Hospital, the March of Dimes, the USO and dozens of other organizations.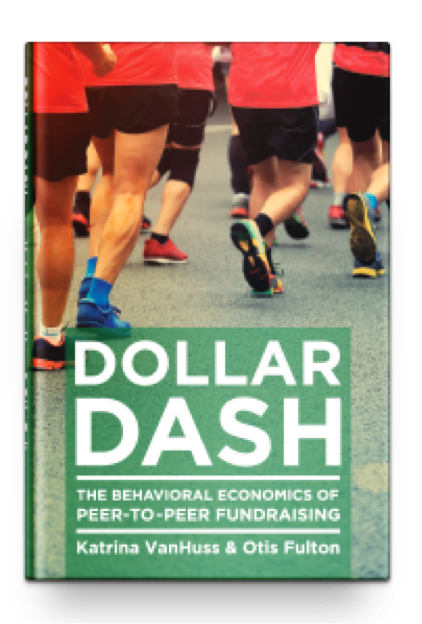 Now as a married couple, Katrina and Otis almost never stop talking about fundraising, volunteerism, and human decision-making — much to the chagrin of most dinner companions. They live in Richmond, Virginia.
Katrina and Otis present regularly at clients' national conferences, as well as at bbcon, NonProfit POWER, P2P Forum and others. They write a monthly column for NonProfit PRO and are the co-authors of the 2017 book, "Dollar Dash: The Behavioral Economics of Peer-to-Peer Fundraising." Click here to download the first chapter.