Extreme Events Equals Extreme Affinity (But Think Before You Leap)
Some years ago, I (Otis) was having dinner with a client and her husband, Bill. In the course of the meal, it came up that Bill was going to be doing a DIY event (although it wasn't called that then) to raise money for breast cancer research, and they asked if I would consider sponsoring Bill for $100 for his event. Bill's mother had passed away from the disease a few years prior.
Without hesitation, I told Bill to count me in and asked what he would be doing. I knew that Bill was a bit of a thrill seeker; he owned a couple of stock cars that he raced at amateur Nascar events. However, I was still taken aback when he said, "Next month, I'm going to go to Russia and skydive out of the back of a old Russian Air Force cargo plane." This was in February. And he was going to be jumping out of the plane, along with 107 other guys, over Siberia.
In February, upon his return to the U.S., I got an email from Bill thanking me for sponsoring him. He had raised more than $4,000. Oh, and one guy died during the jump when his chute failed to open, and Bill's chute hadn't deployed quite all the way—he broke his ankle when he hit the ground. Because his descent was a bit faster than those in the main group, it took the ground crew a while to locate him. Waiting for them, he nearly froze to death. The good news: The cast would be off his leg by the beginning of race season!
Bill decided to raise money for breast cancer around his jump as an afterthought. He had never been involved in nonprofit fundraising of any kind before this, but… what the heck! He was going to jump over Siberia, so he might as well raise a few dollars in the process.
However, when Bill came back from that trip, he brought with him a newfound passion for supporting breast cancer research. An early DIYer, he still participates in various fundraising events for breast cancer each year. What was it that triggered Bill's affinity for this cause?
Part of the reason Bill's attitude about breast cancer changed is due to what psychologists call "effort justification." It works like this: When the effort spent in pursuing a goal is higher than its rewards, we often attribute greater importance to the goal. Connecting breast cancer research to the jump over Siberia made the cause seem much more important to Bill.
In a classic experiment in 1959, U.S. Army psychologists demonstrated that people who had to go through a highly embarrassing situation to join a discussion group reported liking the group more. In a later study, the experimenters added electric shocks. Subjects who received severe shocks before entering the group reported valuing membership in the group more than those who received relatively mild shocks.
What's our takeaway? We simply have to understand what is happening in our participants when we subject them to particular treatments. The jump-from-airplane-in-Siberia treatment created an affinity to a breast cancer organization. It costs a lot to put on the event. We likely created high lifetime value in someone with wealth. This is a business model. The metrics are quite different from a walk business model. A walk costs little to run and leans on those with existing affinity.
The art is to fully define the model in which you are working. The art is to fully understand how humans are making decisions they are making. With that understanding, you can define what it will cost to acquire, to motivate and to fundraise and what the lifetime value of a participant could be.
Bottom line: Do the mental work before buying porta potties, planning routes or renting Russian bombers to drop old guys from the sky.
---
Katrina VanHuss and Otis Fulton have written a new book, Dollar Dash, on the psychology of peer-to-peer fundraising. Click here to download the first chapter, courtesy of NonProfit PRO!
E
Otis Fulton and Katrina VanHuss
Author's page
Katrina VanHuss is the CEO of Turnkey, a U.S.-based strategy and execution firm for nonprofit fundraising campaigns. Katrina has been instilling passion in volunteer fundraisers since 1989 when she founded the company. Turnkey's clients include most of the top 30 U.S. peer-to-peer campaigns — Susan G. Komen, the Cystic Fibrosis Foundation, the ALS Association, the Leukemia & Lymphoma Society, as well as some international organizations, like UNICEF.
Otis Fulton is a psychologist who joined Turnkey in 2013 as its consumer behavior expert. He works with clients to apply psychological principles to fundraising. He is a much-sought-after copywriter for nonprofit messaging. He has written campaigns for St. Jude's Children's Research Hospital, the March of Dimes, the USO and dozens of other organizations.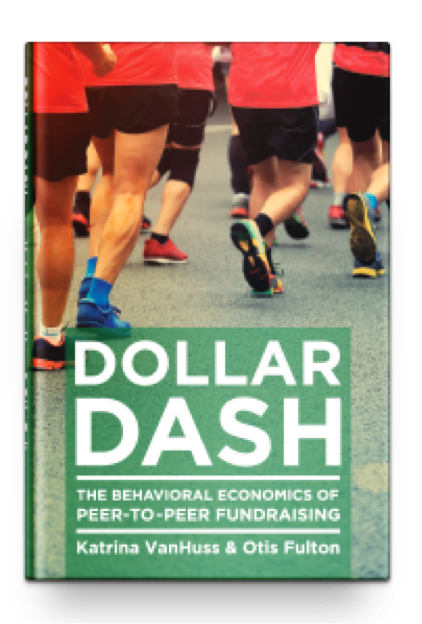 Now as a married couple, Katrina and Otis almost never stop talking about fundraising, volunteerism, and human decision-making — much to the chagrin of most dinner companions. They live in Richmond, Virginia.
Katrina and Otis present regularly at clients' national conferences, as well as at bbcon, NonProfit POWER, P2P Forum and others. They write a monthly column for NonProfit PRO and are the co-authors of the 2017 book, "Dollar Dash: The Behavioral Economics of Peer-to-Peer Fundraising." Click here to download the first chapter.