Are Employees and Volunteers Motivated the Same Way?
Most people hate their jobs. Employees keep doing their jobs to get paychecks. Volunteers quit because the paychecks aren't big enough or the pay is in the wrong currency.
According to a recent Gallup study of 230,000 full-time and part-time workers in 142 countries, only 13 percent of people feel engaged and fulfilled by their jobs. In other words, nearly nine out of 10 adults spend half their waking lives doing things they would rather not be doing at places they would rather not be. It's not rocket science to figure out what keeps them showing up—the paycheck—even though for them, work is more a source of frustration than fulfillment.
Otis Fulton, Turnkey's consulting psychologist, looks under the hood for us: "Psychologists would say that money provides the extrinsic motivation needed to keep people coming back day after day. Their reasons for working are external; they perform their jobs to receive a corresponding incentive—their salary."
Given this information, it would be easy to conclude that offering any kind of incentive will increase motivation. However, research tells us that, in fact, it is often better to offer no incentive at all to motivate performance. How can this be possible? When people are engaged in activities that they find to be meaningful and enjoyable, they experience intrinsic motivation to perform the task.
"Generally, intrinsic motivation is more powerful than extrinsic motivation," Otis explained. "When people think that their behavior is motivated by external rewards, they develop the attitude that they are merely working because of the reward. However, when an incentive is small or nonexistent, people develop the attitude that they are performing that action because of a personal desire (i.e., they develop intrinsic motivation). Psychologists refer to this as the 'less leads to more effect.'"
So, what I'm hearing is that, contrary to my own formerly held belief, employees and volunteers operate exactly the same way. Both can be either extrinsically or intrinsically motivated. Extrinsically motivated people perform actions because they want to acquire stuff or experiences; intrinsically motivated people perform actions because the actions are meaningful and enjoyable to them.
For the nonprofit, switching your volunteer's mental stance to one that is extrinsically motivated—by offering them items that look like pay (airline tickets anyone?)—will cause them to believe subconsciously that they are volunteering in order to get the airline ticket. But, by keeping them intrinsically motivated by using recognition, along with little or no monetary value, you reinforce the idea that they are volunteering because it is meaningful to them.
For both employees and volunteers, extrinsic motivation results in people working banker's hours. Intrinsic motivation results in people working nights and weekends in order to get things done.
E
Otis Fulton and Katrina VanHuss
Author's page
Katrina VanHuss is the CEO of Turnkey, a U.S.-based strategy and execution firm for nonprofit fundraising campaigns. Katrina has been instilling passion in volunteer fundraisers since 1989 when she founded the company. Turnkey's clients include most of the top 30 U.S. peer-to-peer campaigns — Susan G. Komen, the Cystic Fibrosis Foundation, the ALS Association, the Leukemia & Lymphoma Society, as well as some international organizations, like UNICEF.
Otis Fulton is a psychologist who joined Turnkey in 2013 as its consumer behavior expert. He works with clients to apply psychological principles to fundraising. He is a much-sought-after copywriter for nonprofit messaging. He has written campaigns for St. Jude's Children's Research Hospital, the March of Dimes, the USO and dozens of other organizations.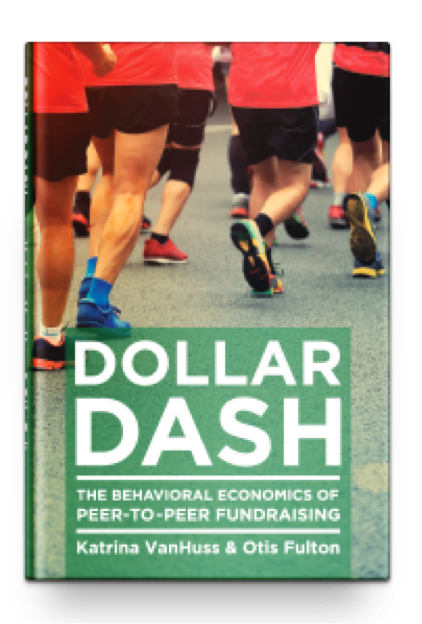 Now as a married couple, Katrina and Otis almost never stop talking about fundraising, volunteerism, and human decision-making — much to the chagrin of most dinner companions. They live in Richmond, Virginia.
Katrina and Otis present regularly at clients' national conferences, as well as at bbcon, NonProfit POWER, P2P Forum and others. They write a monthly column for NonProfit PRO and are the co-authors of the 2017 book, "Dollar Dash: The Behavioral Economics of Peer-to-Peer Fundraising." Click here to download the first chapter.