Why I Care About Your Cause, But Don't Donate
It was always about them, not about me.
What was the message that I needed to hear? Marketing expert Seth Godin puts it simply, "People like us do things like this." People tend to label themselves in a certain way or with certain ties to their social groups, community or experiences. The more strongly held are the self-beliefs, the more likely they are to behave in ways that are consistent with them.
Although I felt strongly about the issue, I didn't feel strongly about myself. Without seeing myself as a "Parkinson's disease evangelist," I wasn't likely to evangelize.
The lesson for nonprofits is this: Rather than focusing on the mission's need or what donors' gifts can accomplish, make your communication more personal.
"We're reaching out to you because you're a caregiver who knows how difficult it can be. Caregivers support other caregivers."
The way to make it about you is to make it about me first.
---
Katrina VanHuss and Otis Fulton have written a new book, Dollar Dash, on the psychology of peer-to-peer fundraising. Click here to download the first chapter, courtesy of NonProfit PRO!
E
Otis Fulton and Katrina VanHuss
Author's page
Katrina VanHuss is the CEO of Turnkey, a U.S.-based strategy and execution firm for nonprofit fundraising campaigns. Katrina has been instilling passion in volunteer fundraisers since 1989 when she founded the company. Turnkey's clients include most of the top 30 U.S. peer-to-peer campaigns — Susan G. Komen, the Cystic Fibrosis Foundation, the ALS Association, the Leukemia & Lymphoma Society, as well as some international organizations, like UNICEF.
Otis Fulton is a psychologist who joined Turnkey in 2013 as its consumer behavior expert. He works with clients to apply psychological principles to fundraising. He is a much-sought-after copywriter for nonprofit messaging. He has written campaigns for St. Jude's Children's Research Hospital, the March of Dimes, the USO and dozens of other organizations.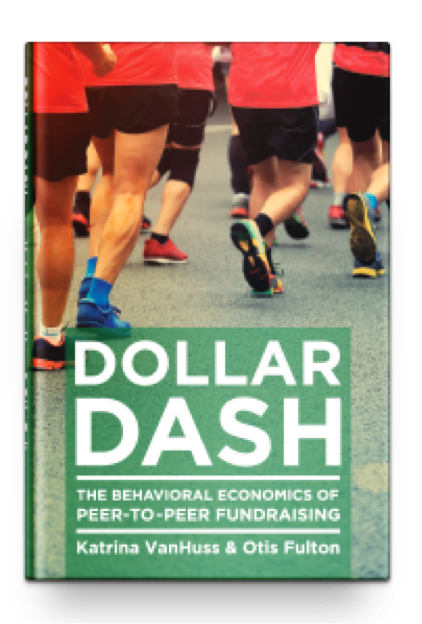 Now as a married couple, Katrina and Otis almost never stop talking about fundraising, volunteerism, and human decision-making — much to the chagrin of most dinner companions. They live in Richmond, Virginia.
Katrina and Otis present regularly at clients' national conferences, as well as at bbcon, NonProfit POWER, P2P Forum and others. They write a monthly column for NonProfit PRO and are the co-authors of the 2017 book, "Dollar Dash: The Behavioral Economics of Peer-to-Peer Fundraising." Click here to download the first chapter.