Altruism: How Very Selfish of You
I took my 25-year-old special needs daughter to a cheering competition Saturday. She is a competitive cheerleader along with about 20 other special needs young women. My daughter has Down syndrome, autism and Type 1 diabetes. And, brace yourself, she also has attitude. She says things, like "What's up, girl?" with just the right notes. Or, if she doesn't want to acquiesce to a request, she says, "Hmm, let me think." She puts her finger to her pursed lips, and wanders off, successfully avoiding the task. Girlfriend can work the system.
A troupe of what we moms with special needs children call "typically developing" young women and their vibrant young adult coach, Elizabeth, coached Anna and her pals Saturday. I watched one young woman work with my daughter. This teenager had red hair and freckles all over her nose, just as I did as a youth and just as my daughter does. The two could have been sisters. As I watched, I saw happiness on the faces of the cheerleaders, but more happy still were the young coaches. They laughed and chattered, fully integrated with the special needs young women, and fully happy to be there, using up the majority of a sunshiny Saturday.
As hundreds of people walked by where we were camped out in a hallway awaiting our performance time at the event, they stared at our girls. They always do. I don't feel it at all. It is like sitting next to a famous person. You just get numb in a good way. I find the stares are never hostile. They are just curious. And, often I feel they want to interact, and our society as a whole is just getting proficient at doing that with people who are clearly "other." In the grocery store, I walk behind the 4-foot-10-inch Anna, and the 6-foot-10-inch husband Otis, both of whom prefer to push the cart and regularly end the battle by having two carts, each of which hold about four items. I think I could walk between them buck naked and no one would notice amidst the other spectacle.
At the cheering event, one woman stopped and watched us take group pictures. I thought she was trying to stay out of the shot, so I encouraged her to walk through, as we would take forever. She said, "Actually, I wanted to know if there was a team like this near my family. I have one daughter here cheering, but another at home with special needs." It was a good conversation. I recounted to her my very first experience with Anna performing in such a venue. I was terrified. How could all these heavily made-up, prissy girls in their carefully chosen outfits and with their fake ponytails accept my daughter? When they performed for the first time, amidst thousands of typical young cheerleaders, I imagined jeers and laughter, though, in truth, I have never seen that happen to my daughter. I was still afraid.
Instead, when the girls performed, the typical cheerleaders rushed the stage area. They pushed to the front, each trying to get to stand just in front of the stage. Thousands of young girls were engaged in support of our special girls. They yelled. They cheered. They smiled. They laughed with joy. They clapped to help our girls keep time. When our girls managed their stunt, which by any other standard would not be a stunt, the crowd went wild. (They got one girl about 1.5 feet off the ground. She was their "flyer" in cheering jargon.) It was as if a war just ended. Pure, unadulterated joy. They didn't just accept our special young women—they brought meaning and happiness.
It was a study in human nature.
At Turnkey, we delve into the human mind and try to figure out why people do things, so we can impact what they do. One of the things we know is that altruism actually makes us happy. Otis, handily not just my husband but my company's human behavior expert, helps us understand. Per Otis:
If you ask people to give you a one-liner about evolution, they often respond with, "It's the survival of the fittest." They are right, but not in the way that you might think. It turns out that always looking out for No. 1 is a bad strategy. Rugged individualists fared poorly on the African Savanna, where 98 percent of our ancestors lived. Those who survived were the ones who promoted the well-being of their group. Humans evolved to find taking care of others—altruism—rewarding. Doing so helped them to survive because it helped the group survive.

Over thousands of generations, altruism was "selected for." What "selected for" means is that the individuals who enjoyed being altruistic were the ones who were more likely to live to have offspring that would pass on this tendency. How does this play out for us today? We know from brain scans that we find taking care of others to be very pleasurable; psychologists call it the "warm glow" effect. It makes us happy. And there is a growing body of research that indicates altruism makes people both happy and healthy. Recently a University of Texas study found that the risk of mortality dropped by 44 percent for people volunteering their time for two or more organizations. It turns out that being unselfish may be the best thing one can do for oneself.
What I now understand is that while these amazing young women are serving our special needs cheering group, we are serving them too. Our group, and, indeed, all nonprofits, provide the opportunity to be definably and measurably happier and healthier. I think of our cheering team as the "bow-impaired," because our bows are just never exactly right, if they make it to the venue at all. Our shoes are orthopedic. Our bodies are not the classic cheering bodies. Knowing the routine is a strong suggestion, but not a requirement. What I know now is that not in spite of our needs, but because of our needs, we bring the gift of happiness.
E
Otis Fulton and Katrina VanHuss
Author's page
Katrina VanHuss is the CEO of Turnkey, a U.S.-based strategy and execution firm for nonprofit fundraising campaigns. Katrina has been instilling passion in volunteer fundraisers since 1989 when she founded the company. Turnkey's clients include most of the top 30 U.S. peer-to-peer campaigns — Susan G. Komen, the Cystic Fibrosis Foundation, the ALS Association, the Leukemia & Lymphoma Society, as well as some international organizations, like UNICEF.
Otis Fulton is a psychologist who joined Turnkey in 2013 as its consumer behavior expert. He works with clients to apply psychological principles to fundraising. He is a much-sought-after copywriter for nonprofit messaging. He has written campaigns for St. Jude's Children's Research Hospital, the March of Dimes, the USO and dozens of other organizations.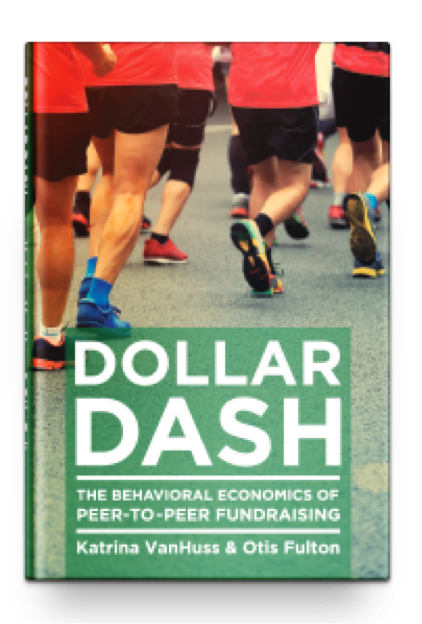 Now as a married couple, Katrina and Otis almost never stop talking about fundraising, volunteerism, and human decision-making — much to the chagrin of most dinner companions. They live in Richmond, Virginia.
Katrina and Otis present regularly at clients' national conferences, as well as at bbcon, NonProfit POWER, P2P Forum and others. They write a monthly column for NonProfit PRO and are the co-authors of the 2017 book, "Dollar Dash: The Behavioral Economics of Peer-to-Peer Fundraising." Click here to download the first chapter.